Do you have questions about what it's like being a student in the MHA, MPH in Policy, or MS in Health Policy program? These current HMP students will be happy to help.
Please visit our Meet Our PhD Students page if you are interested in our PhD in Health Services and Policy.
---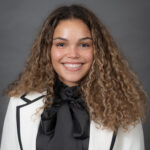 Name: Kori Thomas
Email: kori-thomas@uiowa.edu
Hometown: Fairfax, Va.
Undergraduate: B.A. in Global Health, B.A. in Health and Human Physiology: Health Promotion
What interested you in health care: I was most intrigued by primary prevention strategies and how we could use those strategies to make incremental changes at home to improve overall health outcomes. Utilizing these prevention strategies and providing access to the necessary resources to receive these interventions, requires us to acknowledge and decrease the inequalities and inequities that lie in our healthcare system. Overall, I came to the realization that I was most interested in the gaps that are ingrained in our healthcare system whether it be through education, transportation, race, ethnicity, etc. I wanted to contribute to the change that our healthcare system desperately needs in providing equitable access to all communities.
Favorite grad school moment thus far: My favorite memory in grad school so far has been my Summer internship. My internship allowed me to step outside of my comfort zone and dive deep into topics I was most passionate about. I was able to meet people from different types of backgrounds and connect with them on the topic of healthcare. Each person I came across provided a valuable lesson about how to be a great leader, and I will forever cherish those moments.
Hobbies: I enjoy traveling. My father and I make it a yearly, or every other year, mission to travel to a new country. So far I have been to the Dominican Republic, Jamaica, Mexico, Haiti (my family is from here), Sweden, France, New Amsterdam, and Germany!
Advice for potential applicants: Stay positive and have confidence. Having a positive mentality and attitude will allow you to get through tough situations with grace and poise. Remaining confident means you recognize you are meant to be here and you are meant to shine. Remember, you got this!
---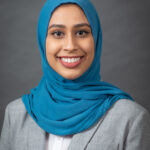 Name: Emaan Ahmad
Graduation Year: 2022
Degrees: MHA
Email: emaan-ahmad@uiowa.edu
Hometown: Moline, Ill.
Undergraduate: Bachelor's of Arts in communication studies, minor in public health
What interested you in health care: Growing up I had traveled frequently to my parents home country of Pakistan and saw first hand what the lack of quality and efficient healthcare could do to a community. Knowing that clinical care wasn't for me, I wanted to be able to provide a safe place for people to receive the proper care they deserved. My desire to help those in need and my knack for management lead me to this field and I am happy to be pursing my passion.
Favorite grad school moment thus far: Being a part of SLC as the VP of Marketing and Communications has been a great experience, and I encourage everyone to get involved in the programs and activities the Iowa MHA program has to offer.
Hobbies: I enjoy spending time with my family and friends doing outdoor activities like going up to Lake Macbride. I also love trying new recipes while listening to some good music!
Advice for potential applicants: Become a sponge and absorb anything and everything the program has to offer inside and outside the classroom. Be open to new opportunities since you never know where they will lead you. Also, be confident in your abilities but stay humble!
---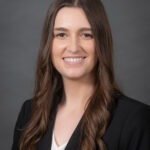 Name: Olivia Moran
Email: olivia-j-moran@uiowa.edu
Hometown: Lakeville, Minn.
Undergrad Degree: B.A. in Public Health with a Leadership Certificate from the University of Iowa
What interested you in healthcare? During my undergraduate degree, I saw issues in the US healthcare system and the need to better support and serve our communities. The opportunity to make a large scale impact, on a population level, to make healthcare more affordable and accessible for our communities is what drew me to Healthcare Administration.
Fav grad school moment thus far: My favorite memory thus far was a 24 hour case competition I did with four of my classmates. Although it was long hours and stressful, it was a great bonding opportunity and I learned a lot about healthcare and my fellow classmates! I will always remember this!
Hobbies: I enjoy spending time with friends, family, and my dog, Roo. I also enjoy running, gardening, & traveling! I have traveled all over Europe and most recently visited Sedona, AZ.
Advice for potential applications: Be prepared and do your best, if you have prepared properly that is all you can do. Always be open to new opportunities and experiences, you never know what you will learn along the way
---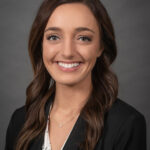 Name: Laura Olds
Graduation Year: 2022
Degrees: MHA
Email: taylor-reber@uiowa.edu
Hometown: Davenport, Iowa
Undergraduate: B.A., Public Health, University of Iowa
What interested you in health care: Back in high school I worked in a hospital kitchen and delivered food to patients. I always knew from that from that position onward I would want to work in healthcare. I was intrigued by various operations throughout the organization and wanted to understand further how they all integrated to serve patients.
Favorite grad school moment thus far: Other than hanging out with my class, my favorite moment of grad school has been all the extracurricular I've been involved with. As Student Leadership Council (SLC) President, I have been able to get involved through planning events with our alumni, aiding in recruitment, and offering professional development opportunities for other students.
Hobbies:I enjoy doing anything outside! Hiking, kayaking, and lounging by the pool are a few of my favorites. I also enjoy all the great food in the IC/Coralville/North Liberty area!
Advice for potential applicants: Be confident in yourself and your road to get here throughout the application and interview process – it will serve you very well. There is no perfect road to take, and all perspectives are welcomed!
---
Are you interested in our PhD in Health Services and Policy?