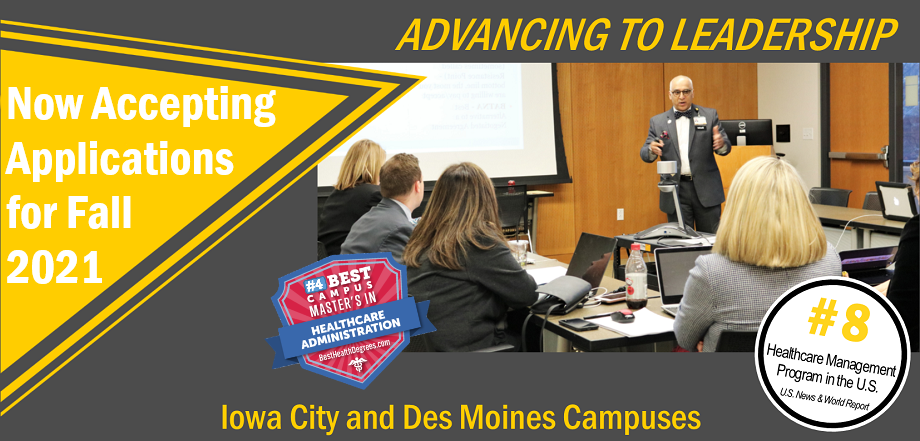 Your Leadership Development
"Every week I would apply knowledge or skills straight out of class. I learned that every major player in healthcare speaks a different language and it's your job to understand them all and translate between groups, constantly."

Todd Patterson, MHA '17
Associate Director of Operations
Healthcare reform centers on improving patient access while moving from volume- to value-based reimbursement. These significant changes require specific healthcare  financial, operating, analytical, cultural, teamwork, and leadership skills. Our teaching approach is therefore team-focused, and our courses are designed to help students develop practical approaches to complex operations, and strategic issues of healthcare delivery, finance, and policy.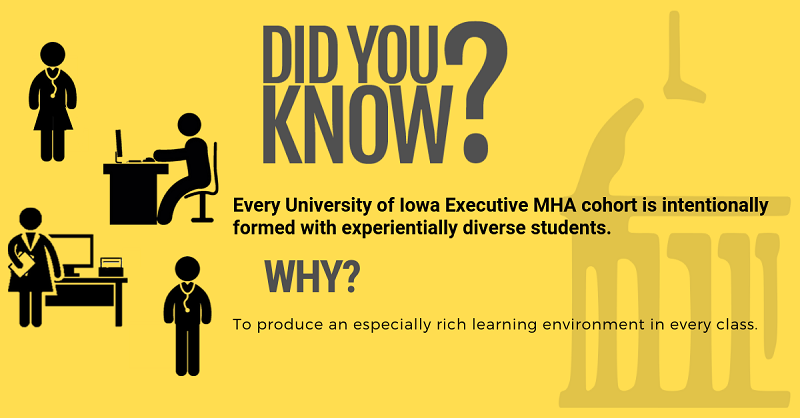 Your Academic Experience
"The shift to value-based care is complex and fluid. The University of Iowa Executive MHA program provides a foundational understanding of the healthcare landscape so that the clinician can competently lead the transition."

Linda Lee, MHA '16
Cardiology Medical Director
The University of Iowa Executive Master of Health Administration track will uniquely prepare you to thrive in your current role and to advance in healthcare organizations through a focus on strategic healthcare leadership. Our nationally top-rated, fully-accredited program will provide a unique opportunity to learn critical cross-functional skills, connect with other future health leaders, and positively impact patient care at your organization and in your community. You'll join our extensive Iowa MHA alumni network of over 1,000 healthcare leaders across the country.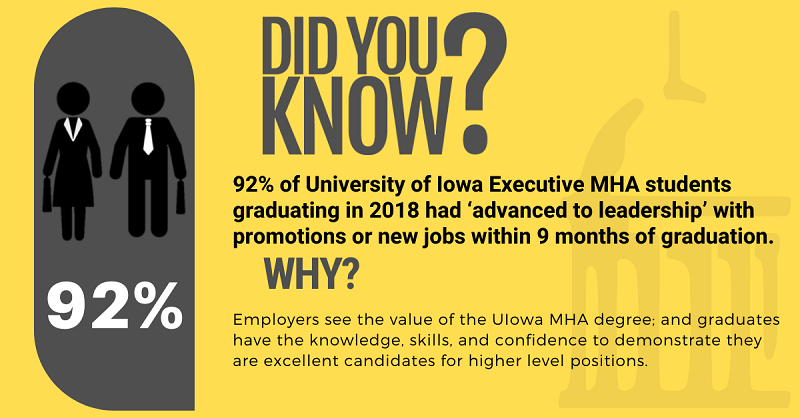 Your Time
Our Executive track requires 45 credit hours and is typically achieved in less than two years. Courses are taught face-to-face and one at a time by expert executives and faculty on Iowa City and Des Moines campuses. Program schedules are set far in advance, which allows planning for family and work commitments. For the convenience of the students, we handle details such as course registrations and book purchases/distribution.
See the 2020-21 EMHA Academic Schedule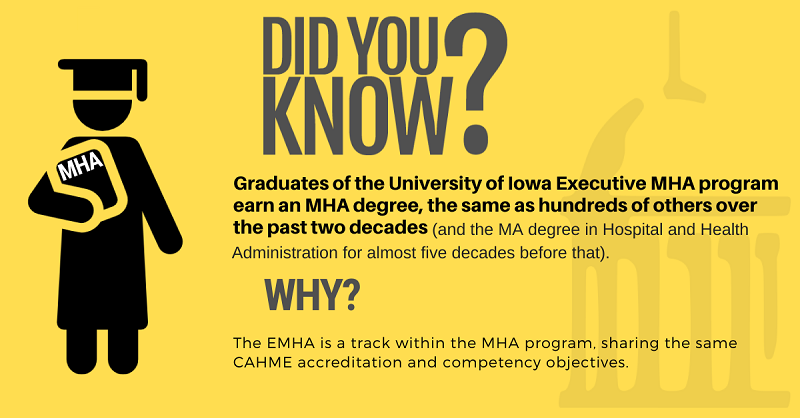 Your Investment
"I often applied what I learned in the classroom to my job the next day. I was able to use real-world work projects and receive credit at both work and school."

Greg Lehmann, MHA '16
Sports Medicine Clinic Administrator
Total program tuition is $55,000 (billed by semester), inclusive of all books and a $1,200 professional development stipend. This is the second-lowest tuition of the top-ten MHA programs with executive tracks.
EMHA Curriculum

Managing Resources (Finances, Operations, Information)
Setting Strategy
Improving Population Health
Leading People (Professionalism and Team Development)
Faculty List
Is it for me?