Cavanaugh appointed head of biostatistics
Published on December 18, 2015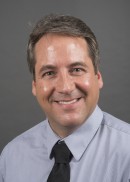 Professor Joseph Cavanaugh has been named the head of the University of Iowa Department of Biostatistics.
Cavanaugh, a professor of biostatistics with a secondary appointment in the Department of Statistics and Actuarial Science in the UI College of Liberal Arts and Sciences, has served as interim department head since November 2014.
He is nationally recognized for his innovative methodological research contributions and for his work as an interdisciplinary collaborator, for outstanding teaching and developing new educational pro­grams in statistics and biostatistics, and for service to the profession.
"Joe is an outstanding choice to lead the Department of Biostatistics, a distinguished and highly productive unit of the College of Public Health," says Sue Curry, dean of the college. "The department fulfills critical roles in teaching, research, and service, which impact so many others across our university, the state of Iowa, and the world. I am optimistic for the future under Joe's capable leadership and the strong support of its faculty, students, staff, alumni, and community partners."
Cavanaugh earned his doctoral degree in statistics at the University of California, Davis. Prior to joining the University of Iowa in 2003, he was an associate professor of statistics at the University of Missouri.
Cavanaugh has taught both introductory and advanced courses in biostatistics, and has been the director of graduate studies in the Department of Biostatistics since 2012. He was the 2006 recipient of the College of Public Health's teaching award, and in 2013 he received the college's faculty service award.
Cavanaugh's main methodological research interests include model selection, time series analysis, modeling diagnostics, and computational statistics.  His collaborative research areas include infectious disease epidemiology, injury prevention, and dentistry.  In 2014, he was named a Fellow of the American Statistical Association (ASA), the nation's preeminent professional statistical society. Under ASA guidelines, no more than one-third of one percent of the total membership may be elected fellows each year.
"I am honored to lead a department with such strong, dedicated faculty and students," says Cavanaugh. "Through the collective efforts of our faculty, we have achieved tremendous progress in defining a departmental identity and in strengthening our degree programs, which has allowed us to recruit exceptional students both nationally and internationally. We have improved our methodological as well as our applied collaborative research productivity. We are affiliated with an internationally renowned clinical trials center, which provides leadership in study design, data management, project management, and statistical analysis for major multicenter trials and epidemiological studies. We have also cultivated a highly supportive culture where people work very well together and everyone contributes to our shared success."
Cavanaugh succeeds former department head Kathryn Chaloner, who passed away in October 2014.
"Under the direction of Kathryn Chaloner, the Department of Biostatistics became a recognized leader in research, graduate education and undergraduate training, and service to the profession," says Cavanaugh. "We have also established a very strong reputation for innovative efforts to promote diversity and inclusion, both within the department and in the field at large. That is part of our culture and it will remain an important priority in the department, just as it is for our college."