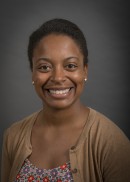 The College of Public Health is pleased to announce that Jasmine Mangrum and Danielle Medgyesi are the latest recipients of CPH Global Public Health Student Travel Grant awards.
Mangrum, a student in the combined Doctorate of Pharmacy-Master of Public Health degree program, received funding to investigate smoking cessation practices of pharmacists at a community pharmacy in Cluj-Napoca, Romania. The project will collect data to develop a comprehensive smoking cessation toolkit for Romanian pharmacists and better integrate pharmacists into the global health workforce. Mangrum previously worked with public health officials in Cluj through the NIH-funded Minority Health and Health Disparities International Research Training internship.  Mangrum's advisor for the project is Edith Parker, professor and head of community and behavioral health.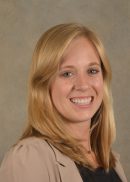 Medgyesi, a master of science student in the Department of Occupational and Environmental Health, has been funded for a six-week project in Kisumu, Kenya, to conduct a study of children's exposure to gastrointestinal (GI) pathogens in public areas. The project will allow researchers to better understand children's daily behaviors and patterns leading to GI pathogen exposure. Worldwide, GI infection is the second leading cause of death in children under the age of five, including more than 27,000 child deaths in Kenya in 2007. Medgyesi's advisor for the project is Kelly Baker, assistant professor of occupational and environmental health.
The CPH Global Public Health Student Travel Grant program, funded by generous philanthropic support from UI alumni Dale and Linda Baker, supports international research, practicums, and internships for graduate students seeking a degree in the College of Public Health. (Students in combined degree programs are eligible, but those in certificate and affiliated programs are not). Awards are available up to $5,000 per student and applications are accepted monthly. For application guidelines and more information, please see http://www.public-health.uiowa.edu/global-public-health-student-travel-grant/
Read more about Dale and Linda Baker's support for global educational opportunities at the University of Iowa … Growing Global Citizens.