Iowa's Dean Curry Appointed to IOM Board on Population Health
Published on October 28, 2014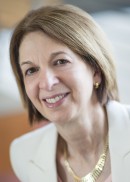 The University of Iowa College of Public Health's Dean Sue Curry has been appointed to the Institute of Medicine Board on Population Health and Public Health Practice. She will serve for three years.
The Board on Population Health and Public Health Practice is broadly concerned with promoting the health of the public – physical, mental, and social – particularly through population-based interventions. The board examines and develops strategies for disease prevention, taking into account the multiple factors affecting health – genetic, endowment, social and environmental conditions, individual behavior (including tobacco use, alcohol consumption, diet, and exercise) and personal preventive services. The Board addresses the science base for such interventions, the public health infrastructure, and the education and supply of health professionals necessary for carrying them out.
The Board has an ongoing program of studies on public health infrastructure; women's and children's health; immunization; AIDS and sexually transmitted diseases; and environmental and occupational health. In particular, the board has identified three priority areas: re-examining public health capacities and responsibilities to meet public health challenges; population-based interventions to promote healthful behavior; and occupational and environmental health issues.
Dean Curry is recognized internationally for her expertise in behavioral science and translation of research findings into health policy. Her extensive research in chronic disease prevention and management includes studies of tobacco cessation, dietary change, modification of risky drinking patterns, and methods of increasing compliance with recommended cancer screening.
She has served as a principal investigator or co-investigator on 30 grants funded by NIH, CDC, and major foundations. Dean Curry is a member of the Institute of Medicine and a fellow of both the Society of Behavioral Medicine and the American Psychological Association. Her numerous professional activities include prior service on the Board of Directors of the American Legacy Foundation, and as a current member of the U.S. Preventive Services Task Force, Chair of Section 9 (Public Health) of the IOM, and member of the National Research Council's Report Review Committee.