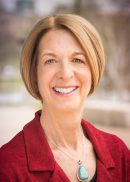 Title(s): Distinguished Professor
Department: Health Management and Policy
Sue Curry, PhD, is a Distinguished Professor in the Department of Health Management and Policy, and former dean of the University of Iowa College of Public Health.
Dr. Curry joined the university as dean of the College of Public Health in 2008. Prior to that, Dr. Curry served as professor of health policy and administration and director of the Institute for Health Research and Policy in the School of Public Health at the University of Illinois at Chicago. From the late 1980s until joining UIC in 2001, Dr. Curry was professor of health services in the School of Public Health and Community Medicine at the University of Washington and senior investigator and director at the Center for Health Studies, Group Health Cooperative. She also served as a scientist in the country's first Cancer Prevention Research Unit at the Fred Hutchinson Cancer Research Center in Seattle.
Dr. Curry is recognized internationally for her expertise in behavioral science and translation of research findings into health policy. Her extensive research in chronic disease prevention and management includes studies of tobacco cessation, dietary change, modification of risky drinking patterns, and methods of increasing compliance with recommended cancer screening. Dr. Curry's research also encompasses studies of the use and cost effectiveness of prevention treatments under different health insurance plans and health care costs and utilization associated with tobacco cessation.
Dr. Curry was appointed chair of the U.S. Preventive Services Task Force in March 2018. She was previously appointed vice chair in March 2016 and served as a member from 2009 through 2014. Dr. Curry was elected to the National Academy of Medicine (formerly the Institute of Medicine) in 2010 and is a member of their Board on Population Health and past section 9 chair. She is a member of the CDC's Interagency Committee on Smoking and Health and Association of Schools and Programs of Public Health Board of Directors. Dr. Curry's past professional service activities include vice chair of the Board of Directors of the Truth Initiative (formerly the American Legacy Foundation) and member of the Board of Scientific Advisors for the National Cancer Institute. She is a fellow of both the Society of Behavioral Medicine and the American Psychological Association.
Dr. Curry is the recipient of numerous awards, including the American Society for Preventive Oncology's Joseph R. Cullen Memorial Award in 2000, the Society of Behavioral Medicine's Distinguished Scientist Award in 2001, and the Society for Research on Nicotine and Tobacco's John Slade Award in 2015.
Research Interests
Health policy
Implementation of evidence-based practice guidelines
Behavioral risk factor modification
Cancer prevention and control
Community-based participatory research
Background