Panel chaired by public health dean reports on Total Worker Health interventions
Published on May 31, 2016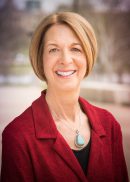 A national panel of independent experts, chaired by University of Iowa College of Public Health Dean Sue Curry, has issued a new report evaluating the evidence for Total Worker Health interventions as well as a set of recommendations to advance the science of such efforts to improve the overall health of American workers.
The report concluded that a small body of evidence suggests that Total Worker Health (TWH) interventions — which aim to integrate injury and illness prevention efforts with work-related safety and health efforts — may help employees improve some health behaviors, but more research is necessary to determine whether these interventions decrease injuries or improve overall quality of life.
The report, published in Annals of Internal Medicine, summarizes a scientific review conducted by researchers for the Agency for Healthcare Research and Quality (AHRQ), along with expert presentations and public comment at a 1.5-day workshop held in December 2015. The report also includes a response from the National Institute of Occupational Safety and Health (NIOSH), which first introduced the TWH model in 2011.
"While evidence was slim in most areas of interest, the researchers did find limited evidence that integrated Total Worker Health interventions can improve health behaviors, such as reducing tobacco use and sedentary behavior and improving diet," noted Curry. "Our recommendations plot a course to support continued development of the science of integrated interventions in TWH research. Included in these recommendations is the critical need for investment in infrastructure to support the development of a seminal body of research."
The full report is available online at www.annals.org/article.aspx?doi=10.7326/M16-0740