T. Renée Anthony, PhD, MS, professor in the University of Iowa College of Public Health's Department of Occupational and Environmental Health, is an environmental engineer and industrial hygienist whose research focuses on identifying and reducing exposures to hazardous chemicals and physical agents.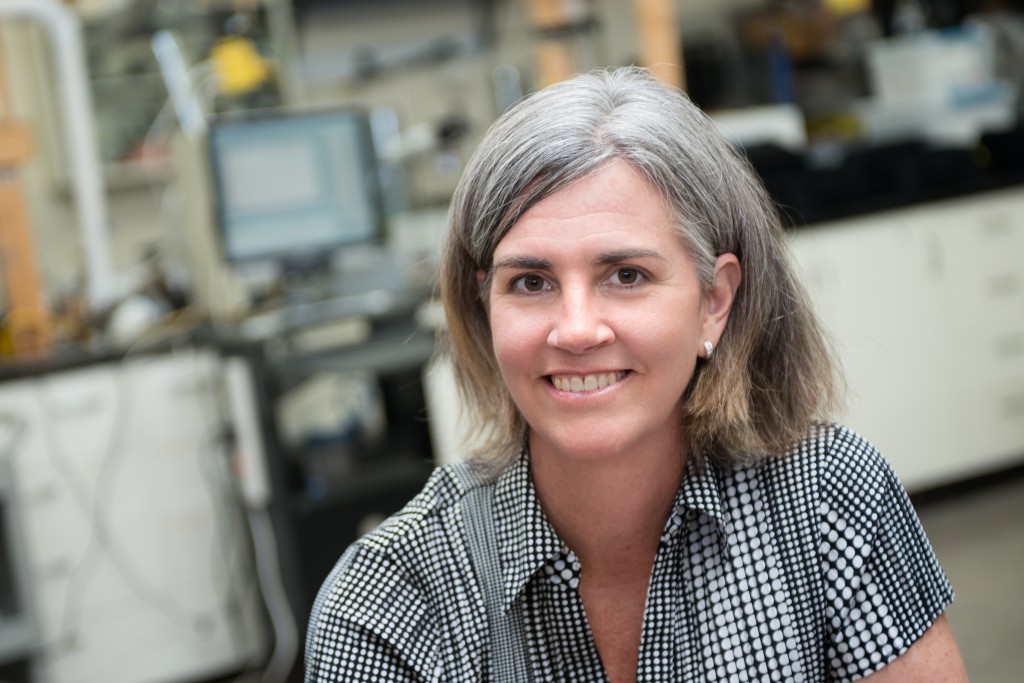 She teaches classes in occupational health and safety and directs the University of Iowa's Great Plains Center of Agricultural Health, a NIOSH-funded agriculture, forestry and fishing center that works to reduce injuries and illnesses in agricultural workers.
Anthony recently answered a few questions about her research and how occupational safety and industrial hygiene are relevant to the ongoing novel coronavirus pandemic.
Q: Part of your work involves understanding and controlling exposure to airborne contaminants in the workplace. How does this apply to the spread of infectious diseases and the current situation with coronavirus? 
A: Much of my work has examined how we measure airborne particles, how particles travel through the air, and how we protect people from these particles. Most often, these substances are generated at work by cutting, transporting, and packaging things. However, the particle behaviors are the same for human-generated particles.
We have known for a long time that people are very efficient particle generators; the simple sneeze can make 40,000 droplets that can travel over 200 miles per hour. Coughing generates about 1/10th the number of particles, but since we may cough more frequently than sneezing, it is also an important mechanism.
When these human-generated particles contain infectious materials – from common strains of flu viruses to tuberculosis bacteria or the current COVID-19 – we have to make sure that others do not inhale or touch these airborne particles.
Some workplaces are critically aware of these hazards and have ongoing prevention strategies, particularly health care providers. When contagious virus and bacteria levels are high in the general population, however, all workplaces become concerned about preventing person-to-person contact of viruses that are exhaled by people.
Q: What precautions can businesses and employees take to reduce their exposure to viruses?
A: When we don't know who may be carrying a contagion, but when we know it is in the community, our time-honored public health approaches of hand-washing and social distancing work well to keep workers away from airborne and settled particles.
Most flu seasons, workers like to tough it out and continue to work even when we start to feel sick. If the outcome is just a runny nose, we often feel that is ok to expose our coworkers to our sneezes.  However, when the stakes get higher – such as respiratory distress and hospitalization with COVID-19 – we need to take precautions to the next level. Businesses and workers need to understand that working while sick puts everyone at risk.
Q: What about respirators and facemasks?
A: Many of the guides for the public discuss the use of "facemasks" when you are sick with COVID-19 and need to get to the hospital. This facemask is something that looks like a surgical mask. It provides little protection for the wearer, but it does a great job at trapping the particles from your sneezes and coughs. By wearing this, you are protecting the health of those around you.
The filtering facepiece respirators commonly called N95s or FFRs are extremely difficult to get right now. Although these are also disposable one-time use products, they are real respirators: i.e., they are certified to remove particles from the air and meet performance criteria to protect the wearer. The CDC currently does not recommend these FFRs for community use.  It is important to know that it is more difficult to breathe through the FFR material wearing it correctly. This may not be an issue to a healthy person, but if you are having problems breathing because of sickness, it may require too much effort to breathe through.
Also, and this is important, FFRs are not a one-size-fits-all device. If you have not been properly fitted, you have no way of knowing whether your N95 provides you with full protection from airborne particles.
Some FFRs have an additional feature: the exhalation valve. This valve makes it easier to wear the FFR at a work environment when we are not concerned with what is breathed out, but rather what is breathed in.  If using an FFR with an exhalation valve for viral protection, it will allow viruses in your exhaled breath/sneeze to be introduced into the air, unfiltered.  Please do not use an FFR with an exhaust filter if you are sick or confirmed to be COVID-19 infected.
Both facemasks and respirators are hard for both the general public and the medical community to obtain right now.  Medical personnel need to wear FFRs to protect themselves from infectious patients, and without them they are having to wear the much less effective "surgical" facemasks, putting themselves in harm's way.
Q: Do you foresee the current situation having any implications to workplace safety policy and regulation in the future?
A: With the limited availability of N95 respirators at the early stages of the COVID-19 pandemic, I see policies for stockpiling these as critical medical supplies needing to be changed. Company emergency preparedness and response plans will be reviewed, as is the case following any crisis, to see what policies and plans need to be put in place to prepare for future events.
Q: In addition to your research, you also teach classes in occupational health and safety that provide real-world hands-on learning experiences for students. What kind of teaching opportunities does the current novel coronavirus pandemic present?
A: As the COVID-19 cases have grown through the semester, I have spent time in classes unraveling the confusion about conflicting media recommendations, helping everyone better understand the scientific basis to recommendations to protect themselves and the community. Students in safety and health have the opportunity to understand, in real time, the importance of personal protective equipment selection, their use and limitations, both at work and in community settings.
Q: What type of skills do you recommend that students develop if they're considering a future career in industrial hygiene? 
Curiosity about hazards in the air and water, a basic understanding of physical and chemical sciences, and an interest in working directly with people to problem solve efficient and effective ways to protect people from hazards.