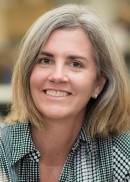 Title(s): Professor
Department: Occupational and Environmental Health
Office: S333 CPHB
Phone: (319) 335-4429
Dr. Anthony is an environmental engineer and industrial hygienist whose research focuses on identifying and reducing exposures to hazardous chemicals and physical agents. She has spent nine years working as an industrial hygienist and safety and health manager in the pulp and paper industry before obtaining her PhD. Students taking Dr. Anthony's courses can expect hands-on learning for real-world work experience.
With funding from the National Institute of Occupational Safety and Health (NIOSH), Dr. Anthony has developed computational fluid dynamics models to investigate how aerosols move through the air to be inhaled and to be collected in samplers, leading to the development and testing of inexpensive samplers to assess worker exposures to inhalable particles. She has also collaborated with Dr. Peters to develop and test the performance of a nanoparticle sampler.
With other NIOSH funding, Dr. Anthony has investigated air contaminants in livestock operations, including designing and testing recirculating ventilation systems to remove contaminants during cold Midwest winters and identifying suitable low-maintenance direct-reading monitors for use in high-risk manure gas operations. She also directs the Great Plains Center of Agricultural Health, a NIOSH-funded agriculture, forestry and fishing center aimed to reduce injuries and illnesses in agricultural workers.
Learn more about Dr. Anthony at this profile…
Courses Taught
Research Interests
Contaminant transport modeling
Development of low-cost samplers to assess exposures to airborne particles
Controls to reduce occupational exposures
Field-based exposure assessment strategies
Noise exposure assessment and control
Background
Affiliations