IH Student Deirdre Green Studies the Health Effects of Noisy Restaurants
Published on June 2, 2014
Deirdre Green spent a lot a time in restaurants last year, but she wasn't there to sample the food. Instead, she sampled the noise.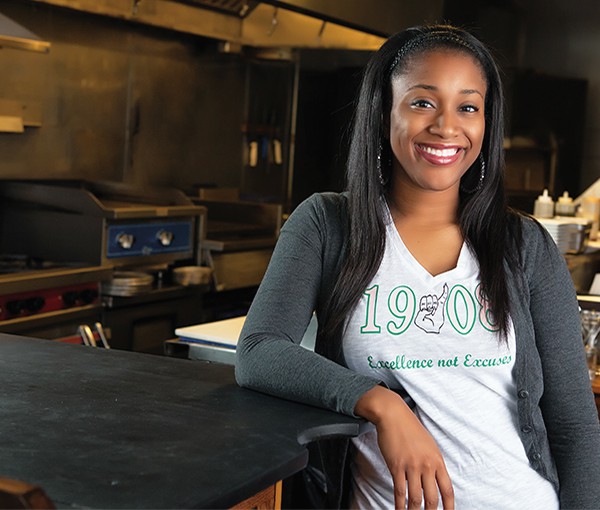 Green, who graduated with an MS degree in industrial hygiene in spring 2014, worked with faculty member Renée Anthony to develop her master's thesis research project, which focused on evaluating the personal noise exposure of restaurant workers in downtown Iowa City.
"There are more than 4 million restaurant workers in the country, but there's no good knowledge about their long-term risk of hearing loss," says Anthony. "Noise, to a restaurant, is good—noise sells food. When it gets too loud, customers can leave, but workers can't."
Evaluating Exposures
Green, originally from Downers Grove, Ill., received her undergraduate degree in occupational safety from Iowa State University. For her master's project, she placed dosimeters on workers in two different styles of restaurant—full service (those that provide sit-down service and typically have a bar) and counter service. Six restaurants participated.
"I went back six times in the fall and six times in the summer and took daytime measurements on a variety of workers—hostesses, waiters, bartenders, and cooks," says Green. "I evaluated the data for each worker's actual exposure, what types of sound levels restaurant workers are exposed to, and if there's a difference in exposure by day of the week, season, job title, or restaurant type."
While her initial results show that all the workers' noise exposures fell within Occupational Safety and Health Administration regulations, "noise exposures exceeded non-regulatory recommendations, indicating that even during daytime hours at restaurants, workers might be exposed to noise that can affect their hearing later in life," Green notes. "Cooks had a louder exposure than the other restaurant workers, and full-service restaurants had higher exposures than the counterorder style of restaurant."
Protecting People
Green says she learned a lot by designing her own project under Anthony's guidance. "It gave me the skills to get out there and communicate with people, as well as how to put together a grant. I was able to take what I learned and apply it to real life. That was the most exciting part of my project— being able to execute a project in the public and in an area that I enjoy."
For Green, industrial hygiene is an ideal fit. "It's a combination of public health and engineering, which is really appealing to me. There's the opportunity to tailor the degree to what you want to do. Public health is one of those fields where you can put your degree to use. I enjoy the idea of protecting people and learning the most effective ways to do that."
Green plans to continue her work by pursuing a doctoral degree in occupational injury epidemiology.