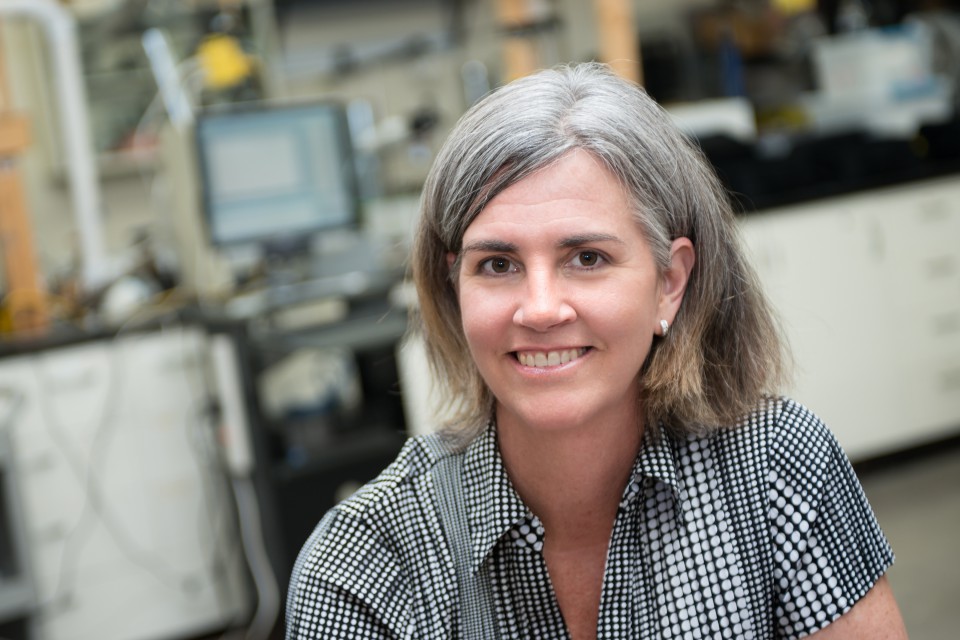 Students taking Dr. Renée Anthony's courses can expect hands-on learning for real-world work experience. Anthony, associate professor in the University of Iowa College of Public Health's Department of Occupational and Environmental Health, incorporates laboratory, field projects and other activities into her classes whenever possible.
"We have to develop the fundamental knowledge, but every opportunity I have, I try to integrate it with practical experience," she said. "The students get challenged. I hold them to high expectations and they rise to it, almost every time."
One prime example is the Occupational Safety class that Anthony instructs. Graduate students taking the course choose a local business to assess and work with to improve the safety of employees and prevent potential injuries. Each student identifies a restaurant or other shop, talks to the owner and performs a consultation, in addition to developing a safety plan that the business can actually implement.
Anthony said the goal of the community consultations, as well as her teaching philosophy, is to ensure graduates have the tools and confidence to make sound decisions to protect the health of the people they will be serving, "regardless of the nature of the hazard."
"They take the detailed concepts they're learning in class and apply it," she said. "That truly helps them build their management skills."
Anthony gained her own experience as an industrial hygienist in the pulp and paper industry before pursuing her Ph.D. Her work took her around the world, where she learned health and safety regulations beyond the United States. U.S. regulations lag behind many other countries, she said, "so I really stress best practices in class, over regulations. The minimum doesn't always protect people."
Anthony earned her bachelor's degree in environmental engineering from California Polytechnic State University and her master's in air pollution, radiation and industrial hygiene from the University of North Carolina, Chapel Hill. She worked for nearly a decade before pursuing her Ph.D. in occupational hygiene, exposure assessment and fluid mechanics, also from the University of North Carolina.
Now a highly regarded expert in the field, Anthony said she hadn't even heard of industrial hygiene before she was fit-tested with a respirator for one of her job assignments. The respirator didn't fit properly, as they weren't designed for women, she recalled, but the industrial hygienist who was working with her gave her insight into the field.
"It's a career that nobody knows about or talks about," Anthony said, noting that "hygiene" refers to prevention, while "industrial" can be a misnomer. "It's really dealing with personal exposures, whether at an office or school, or indoors or outside."
Besides Occupational Safety, Anthony also teaches courses in Occupational Health; Quantitative Exposure Assessment; Rural and Agricultural Medicine; and Work, Health and Environment. Her research interests include contaminant transport modeling; developing low-cost samplers to assess exposures to airborne particles; controls to reduce occupational exposures; field-based exposure assessment strategies; and noise exposure assessment and control.
Anthony conducts research that combines engineering and public health concepts to quantify and control workplace exposures. She recently used computational fluid dynamics to model how large particles travel through slow-moving air inside workplaces before being inhaled into the mouth and nose.
She also co-directs the NIOSH Fatality Assessment and Control Evaluation (FACE) program, which conducts surveillance of all occupational fatalities in Iowa and is coordinated by the UI.
Anthony is collaborating with UI Associate Professor, Dr. Thomas Peters, in developing and field testing nanoparticle samplers to improve the understanding of risks of exposure to incidental and manufactured nanomaterials. She also is examining methods to reduce wintertime contaminant concentrations in swine buildings, where air is ventilated, cleaned and returned to a farrowing room.
Because of her contributions to the field, the American Industrial Hygiene Association selected Anthony as the recipient of the 2015 Alice Hamilton Award. The national award recognizes an outstanding woman who has made a definitive, lasting achievement in the field of occupational and environmental hygiene through public and community service, social reform, technological innovation or advancements in the scientific approach to the recognition, evaluation, and control of workplace hazards.
Anthony said she continues to enjoy her work.
"It's an interesting mix of skills," she said, citing toxicology, engineering, ergonomics, health and more. "Industrial hygiene is a field where you will never know everything. There is always something new to learn."
— Profile by Cindy Hadish