Story honored with APHA Mid-Career Award in International Health
Published on November 9, 2022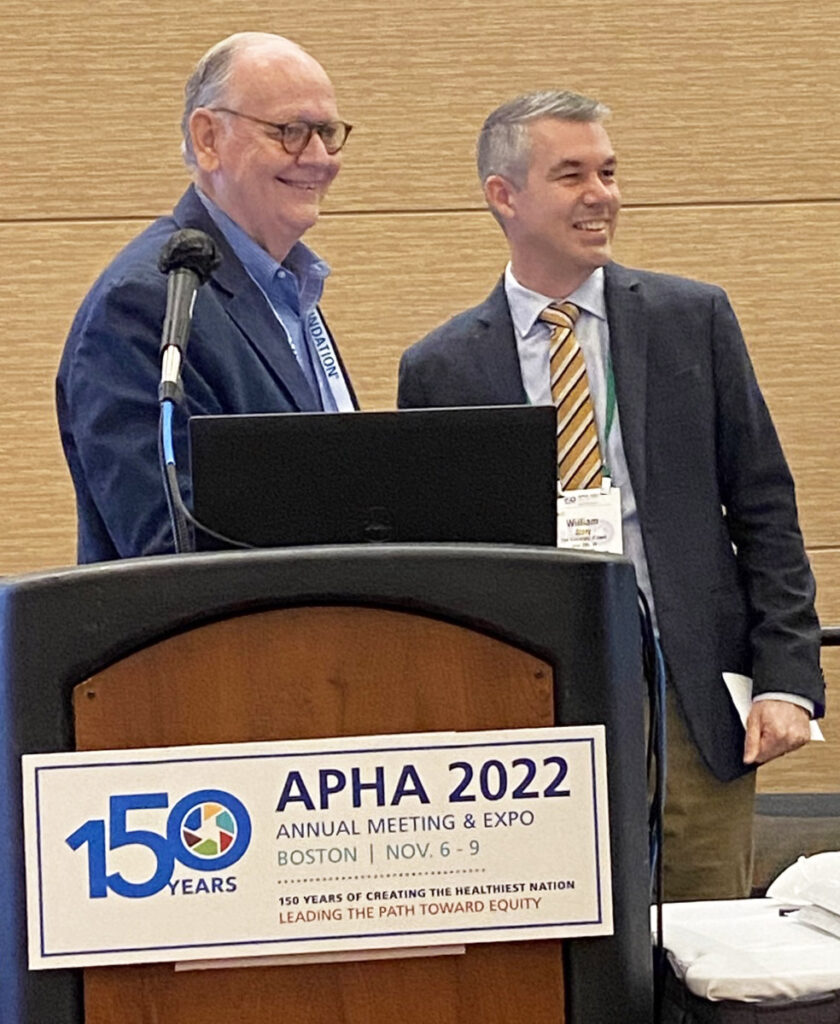 Will Story, associate professor of community and behavioral health in the University of Iowa College of Public Health, was honored with the 2022 Mid-Career Award in International Health from the American Public Health Association (APHA). He received the award at the APHA Annual Meeting and Expo in Boston, Massachusetts.
The award recognizes an outstanding mid-career professional in the APHA's international health section with demonstrated achievement and commitment to international health promotion and development over a period of seven to 20 years, as well as demonstrated creativity in expanding the concepts pertinent to the practice of public health with an international focus.
Story's research focuses on better understanding household- and community-level factors that are critical to the improvement of maternal and child health in resource-poor countries and translating that research into effective interventions and policies. He has 18 years of experience in designing and evaluating community-oriented maternal and child health interventions in Sub-Saharan Africa and South Asia—as a health advisor for an international non-governmental organization (INGO), as an independent consultant, and as a professor at the University of Iowa.
While working at the INGO World Renew, Story helped grow their health portfolio by writing and winning multiple USAID grants to address HIV prevention, malaria prevention and control, and maternal and child health programming in Bangladesh, India, Kenya, and Malawi. As a board member and co-chair of the Social and Behavioral Change Working Group of the CORE Group from 2006-2009, Story played an integral role in the development of the Designing for Behavior Change curriculum, which gave program managers and planners the skills and tools to apply a behavioral approach to designing community development programs.
As an associate professor in the UI College of Public Health, Story has expanded the global public health research agenda of his department and the college by establishing mutually beneficial, equitable partnerships with researchers and communities around the world. Since joining the University of Iowa, Story has been awarded 20 grants and subcontracts and published over 30 manuscripts that demonstrate his commitment to equitable global health partnerships to address critical issues in reproductive, maternal, and child health using community-based strategies.
Using both community-based participatory research and mixed-method approaches, his research currently focuses on three specific areas: (1) the influence of family members, especially men, on perinatal health care decisions; (2) the role of social capital as a community resource that influences health behaviors, including health care utilization; and (3) the mechanisms through which families and communities improve maternal and child health outcomes.
In addition, Story launched the Congolese Health Partnership (CHP) in 2017, which is a community-based participatory research project that aims to overcome barriers to health care access faced by pregnant Congolese mothers in eastern Iowa. The CHP was recognized at a national level, receiving the inaugural Community Research Partnership Award from the Interdisciplinary Association for Population Health Science in 2019.