UI researcher: Rural areas face higher health insurance premiums
Published on June 22, 2016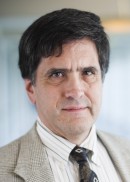 Premiums for health plans offered through insurance marketplaces are expected to increase substantially in the coming year, but a new report co-authored by a University of Iowa health policy researcher shows that rural areas of the United States already face higher premiums compared to urban places, and the gap appears to be widening.
Keith Mueller, professor and head of health management and policy at the University of Iowa College of Public Health, joined colleagues from the Brown School at Washington University in St. Louis in a study of data on 2016 premiums from the Centers for Medicare & Medicaid Services, as well as information compiled from state-based marketplaces. They found that premiums had increased disproportionately in rural areas. The data differed from previous years, when urban and rural premium increases did not show a consistent pattern.
The researchers cautioned that their study focused only on premiums without accounting for subsidies and other cost-sharing adjustments that reduce the actual cost of insurance coverage for the majority of consumers.
The researchers found average adjusted premiums in rural counties are higher than in urban counties, with a widening gap in 2016 for both federally operated marketplaces and state-based marketplaces. In 2016, rural averages in the federally operated marketplaces were $306, compared to urban averages of $287. In the state-based marketplaces, rural averages were $285, compared to urban averages of $245.
Health insurance marketplaces, also known as exchanges, were established under the federal Affordable Care Act (ACA) as a resource for individuals, families, and small businesses to access, compare, and purchase health insurance plans. The exchanges are intended to restrain premium increases by encouraging competition among health plans.
The researchers also observed a disparity between rural and urban areas in terms of the number of insurance companies participating in exchanges. In 2016, urban counties had an average of 4.2 firms participating, while rural counties had an average of 3.2 firms participating.
"If premiums are higher in areas with less competition among firms, and less competition is occurring in rural areas, then there is a differential in premiums that is affecting people based upon where they live," the researchers noted.
The report was conducted by the RUPRI Center for Rural Health Policy Analysis, based in the University of Iowa College of Public Health. This study was supported by the Federal Office of Rural Health Policy in the Health Resources and Services Administration, under the U.S. Department of Health and Human Services.  The full report is available on the RUPRI website.