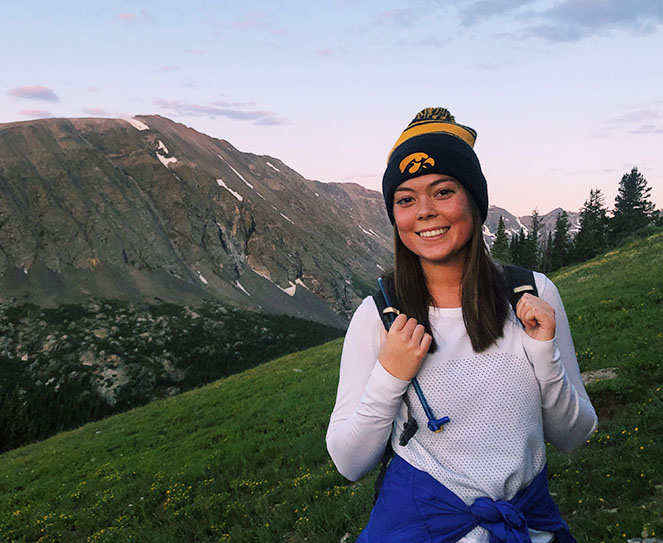 University of Iowa undergraduate student Jessica Allen had an insider's view into the early days of the coronavirus pandemic thanks to her internship at the Johnson County Public Health Department in Iowa City.
"I've been able to watch this virus grow from an outbreak in China to a global pandemic to eventually a local emergency," says Allen, a junior majoring in public health, about her spring 2020 internship.
Allen assisted her supervisor, Jacob Riley, Johnson County disease prevention specialist, on COVID-19-related projects during the county's preparedness stages.
"I created documents that would be sent to people being monitored for COVID-19," Allen says. "These included a sheet translating the governmental order to isolate into language that the average person could understand, instructions on how to take your temperature, a temperature tracking chart, contact information sheets, and more. My contributions prior to the identification of cases in Johnson County helped my supervisor and others have a smoother transition into the period of tracking exposures and then into actually having identified cases."
In March, the pandemic prompted the University of Iowa to close much of campus and move classes online, meaning Allen's internship also had to switch gears.
"After spring break, I had to finish my 80-hour internship remotely from home in West Des Moines," Allen says, adding that she was unable to work on COVID-19 projects remotely due to confidentiality restrictions on health data. "I finished my last project on a vaccine policy recommendation from home, but I wish I could have been able to witness more on how county public health departments handle pandemics," Allen says.
Although she didn't get the chance to see that aspect in person, Allen's own experiences of adapting to a global health crisis has made an impact.
"I believe this pandemic has cemented my decision about being a public health major," she says. "I made my decision freshman year and my family didn't quite understand what public health meant — they thought I was going to be a doctor!
"Not only have I been able to see firsthand all of the public health information I've learned in college being put to use in the world right now, but I'm also able to explain to my family what is going on in a way that they can understand," Allen continues. "I was able to explain to my grandma the importance of social distancing and washing her hands in terminology she would understand better than what she hears on the news."
Allen hopes many others will come away with a new understanding of public health as well.
"I heard this phrase one time, 'No one knows what public health is until we need it,' and that is very true," she says. "I hope this pandemic has opened the public's eyes about the importance of public health and how vital it is to plan and provide funding for emergency preparedness for the sake of all of our health and safety."
Learn more about Iowa's undergraduate program in public health