All College of Public Health students, faculty, and staff are invited to join a college-wide reading of Stamped from the Beginning: The Definitive History of Racist Ideas in America by Ibram X. Kendi. The book was the winner of the 2016 National Book Award for Nonfiction and has been honored with numerous awards. Kendi was named one of "The 100 Most Influential People of 2020" by Time magazine.
Free Books for CPH Students
CPH students can choose to receive a free paperback or ebook copy of the book from the college. Please select only one option to ensure there are enough copies to go around.
Students can pick up a paperback copy in the Student Services suite (first floor of CPHB) any time during regular office hours.
For an ebook copy, please email cph-communications@uiowa.edu to request a one-time use code. The default ebook platform for use with the code is called Glose. You will need to set up a free Glose account to download the book. A free Glose app for reading on mobile devices is available for iOS and Android.
At this time, the college isn't able to loan books to staff and faculty due to the pandemic. Please check your favorite bookstore or library for a copy.
Events and Facebook Group
Given the book's length and the ongoing COVID-19 pandemic, a number of events and discussions will take place throughout the academic year. Dates will be added as events are planned. The events will be held on Zoom.
Thursday, Oct. 15, 11 – noon                 Discussion of Prologue and Part I: Cotton Mather
Monday, Nov. 9, 12:30 – 1:30 pm         Part II: Thomas Jefferson
Looking for an online space where you can discuss and learn more about "Stamped from the Beginning"? Join the CPH Book Club Facebook group, open to all CPH students, faculty, staff, and alumni! We encourage an open and respectful dialog where everyone feels free to ask questions, share ideas, and engage in conversation. From time to time, we'll post discussion questions, videos, and other materials related to the reading to stimulate conversation and engagement. This private group will supplement events and discussions held via Zoom. You can submit your request to join at www.facebook.com/groups/uicphbookclub/
About the Book
SOME AMERICANS cling desperately to the myth that we are living in a post-racial society, that the election of the first Black president spelled the doom of racism. In fact, racist thought is alive and well in America – more sophisticated and more insidious than ever. And as award-winning historian Ibram X. Kendi argues in Stamped from the Beginning, if we have any hope of grappling with this stark reality, we must first understand how racist ideas were developed, disseminated, and enshrined in American society.
In this deeply researched and fast-moving narrative, Kendi chronicles the entire story of anti-Black racist ideas and their staggering power over the course of American history. Stamped from the Beginning uses the life stories of five major American intellectuals to offer a window into the contentious debates between assimilationists and segregationists and between racists and antiracists. From Puritan minister Cotton Mather to Thomas Jefferson, from fiery abolitionist William Lloyd Garrison to brilliant scholar W.E.B. Du Bois to legendary anti-prison activist Angela Davis, Kendi shows how and why some of our leading proslavery and pro-civil rights thinkers have challenged or helped cement racist ideas in America.
Contrary to popular conceptions, racist ideas did not arise from ignorance or hatred. Instead, they were devised and honed by some of the most brilliant minds of each era. These intellectuals used their brilliance to justify and rationalize deeply entrenched discriminatory policies and the nation's racial disparities in everything from wealth to health. And while racist ideas are easily produced and easily consumed, they can also be discredited. In shedding much-needed light on the murky history of racist ideas, Stamped from the Beginning offers us the tools we need to expose them—and in the process, gives us reason to hope.
About the Author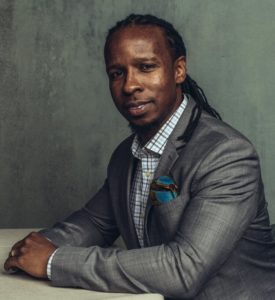 IBRAM X. KENDI is one of America's foremost historians and leading antiracist voices. He is a National Book Award-winning and #1 New York Times bestselling author. Kendi is the Andrew W. Mellon Professor in the Humanities and the Founding Director of the Boston University Center for Antiracist Research. Kendi is a contributor writer at The Atlantic and a CBS News correspondent. He is the 2020-2021 Frances B. Cashin Fellow at the Radcliffe Institute for the Advanced Study at Harvard University.
Kendi is the author of THE BLACK CAMPUS MOVEMENT, which won the W.E.B. Du Bois Book Prize, and STAMPED FROM THE BEGINNING: THE DEFINITIVE HISTORY OF RACIST IDEAS IN AMERICA, which won the National Book Award for Nonfiction in 2016.
He is also the author of three #1 New York Times bestsellers, HOW TO BE AN ANTIRACIST, an international bestseller that has been translated in several languages; STAMPED: RACISM, ANTIRACISM, AND YOU, co-authored with Jason Reynolds; and ANTIRACIST BABY, illustrated by Ashley Lukashevsky.