A generous gift supports aspiring public health students
Published on January 4, 2023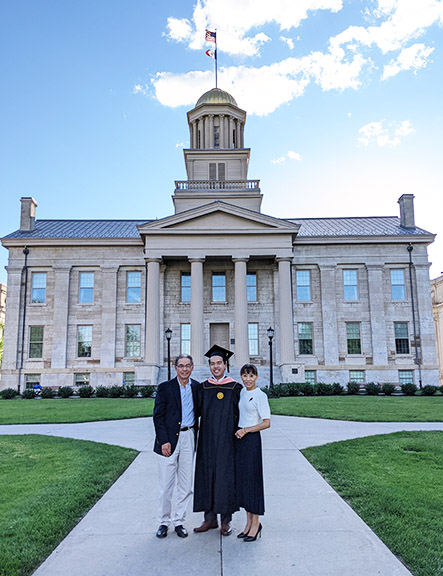 Earlier this year, Dr. David Wu, Una Yang, and Austin Wu (21 MPH, 20BA) designated a generous gift to establish the Wu-Yang Family College of Public Health Scholarship in the University of Iowa College of Public Health.
The family's support will help future College of Public Health students achieve their academic goals at Iowa. "Our family comes from a long line of educators and professionals who value higher education," says Una Yang. "Providing opportunities for the next generation of aspiring students who may not be as fortunate in a financial sense is our primary motivation."
The family maintains a strong connection to the University of Iowa. "Our family spent over 20 years in Iowa; these were very important years in our family's development," Yang says. "Right off the bat, we became fans of Hawkeye athletics, which continues to this day. After Dave's retirement from corporate life, he taught in an adjunct capacity at the Colleges of Business and Engineering."
Austin Wu's years as an undergraduate and graduate student at the College of Public Health were rewarding in many respects. The college felt like a second home on campus to him, he says, and he has fond memories of lunches at the Spotlight lectures and many other events. The college provided opportunities to engage with the state of Iowa and the wider public health world, such as attending a state legislative breakfast in Des Moines and providing financial support to attend the American Public Health Association's annual national meeting, he adds.
After graduating with a Master of Public Health degree in 2021, Austin held positions as a research assistant at the University of British Columbia's School of Population and Public Health in Vancouver, Canada, and as a policy analyst at the League of American Bicyclists with a focus on road safety. He recently started the Centers for Disease Control and Prevention's Public Health Associate Program, a competitive two-year paid training program where associates are assigned to state, tribal, local, and territorial public health organizations across the U.S. He has been assigned to the Center for Public Health Practice within the Minnesota Department of Health.
"We're so grateful to the Wu-Yang family for their gift to the college," says Edith Parker, dean of the College of the Public Health. "This new scholarship will support students as they pursue the education and skills they need to launch successful careers in public health."
"The university environment provides many avenues for growth—academic, social, artistic, athletic, etc.," Yang says. "We encourage prospective students to fully explore what the University of Iowa has to offer in and out of classrooms. Go Hawks!"
This article originally appeared in the Fall 2022 issue of InSight magazine