A search for answers leads to the field of maternal and child health
Published on April 6, 2022
Kuann Fawkes (21MPH) was one of the first students to complete the College of Public Health's new Maternal and Child Health Training Program that was introduced in fall 2020. The training program is funded by a grant from the Health Resources & Services Administration and is intended to address a growing need for a well-trained and diverse maternal and child health (MCH) workforce. The training program is directed by Kelli Ryckman, professor of epidemiology, along with associate director William Story, associate professor of community and behavioral health.
Fawkes recently answered a few questions about her path into maternal and child health and her current position as a CDC-assigned program manager at the Massachusetts Department of Public Health.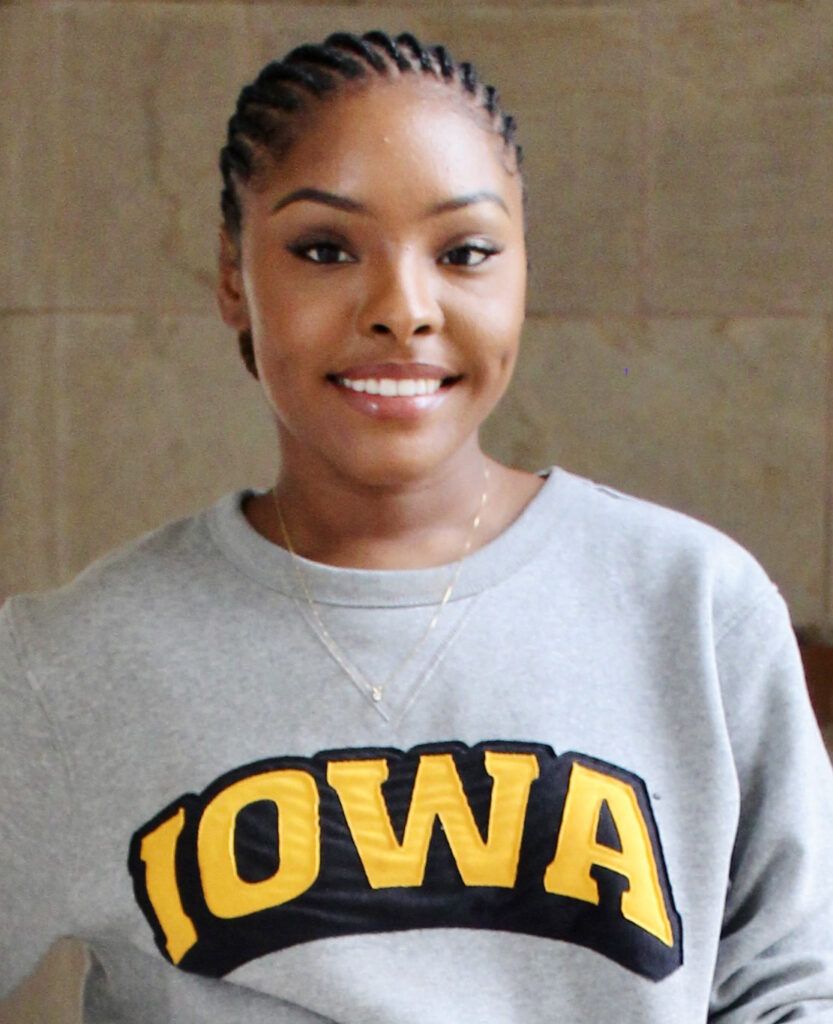 What sparked your interest in maternal and child health?
I have personal and professional ties to this field. My mother is the senior nursing officer and only midwife in my hometown of Mathew Town, Great Inagua, Bahamas. She has served the community for 40+ years and counting. I grew up in the birth justice space and saw her navigating complex community health challenges with very little resources. My father is a captain, the retired marine superintendent of Morton Salt Company, former director of Bahamas Maritime Authority, former mayor, the island historian, and current harbor pilot. Their dedication to serving the community led me to public health.
What led me to maternal and child health specifically was my search for answers about the statistic: "Black women are 3 to 6 times more likely to die from pregnancy-related causes than non-Hispanic white women," depending on where they live. As a student, I grew tired of hearing it and wanted to do something about it. Since maternal health outcomes are the clearest indicator of the health of a nation, addressing the challenges in the field forces us to deconstruct our past and hold ourselves accountable to creating a healthier future for all. I always found myself in spaces where it was healthy to unpack that statistic, and where I could talk freely about intersectionality, life course theory, racism, bias, discrimination, and their collective impact on health outcomes.
I quickly learned that everything in public health starts with MCH. It is so important for public health to prioritize birthing/parenting people and children. Protecting the health of the public begins with protecting them and doing so unapologetically.
How did you become involved in the new Maternal and Child Health Training Program offered by the College of Public Health?
During my second year of my MPH in the Department of Community and Behavioral Health, I was seeking more opportunities in maternal and child health. At the same time, the College of Public Health was implementing the training program, and that's how I became involved.
Can you briefly describe the duties of your current job and describe the path to your current position?
My path to my current position began when I was still in the training program. I was an intern at the Association of Maternal & Child Health Programs (AMCHP). At AMCHP, I had the tremendous opportunity to work with the Women & Infant's Health team to support regional- and national-level projects in maternal mortality review, racial equity, and coordinating HRSA's first Region V infant mortality summit.
During my final semester of my MPH, I opted to complete my practicum experience at AMCHP. My project was centered on establishing measures and metrics to accompany the implementation of the AIM patient safety bundle: Reduction of Peripartum Racial & Ethnic Disparities at the largest birthing hospital in New York State, in collaboration with two incredible community-engaged partners.

A few months after completing my MPH (and the MCH Training Program), I was hired full-time as a perinatal health research associate at AMCHP. In this role, I provided leadership and technical assistance for the Healthy Beginnings Anti-Racist Learning & Practice cohort. This initiative supported six state Title V and birth justice organization teams across the country.
The combination of my lessons in the MCH Training Program and my experiences at AMCHP led me to my current position as program manager at the Massachusetts Department of Public Health. I support the state's Maternal, Infant, and Early Childhood Home Visiting (MIECHV) Initiative which is housed in the Bureau of Family Health and Nutrition. In my position, I am responsible for program implementation, quality improvement, and evaluation to provide healthy, safe, and nurturing environments to families in Massachusetts.
What advice do you have for students who are interested in MCH topics or careers?
Be very strategic and intentional about the courses that you are taking. Go into each new course with a goal for how it will benefit your career. Utilize every project as an opportunity to incorporate your interests. If you do not know what your specific interests are, challenge yourself to learn about the different aspects of MCH. Do not dim yourself for others, show up fully in your passion. It should be your aim to be well acquainted with challenges in various MCH population groups. It is an incredibly broad field, and there is room for so much innovation, diversity, and creativity. Let go of the imposter syndrome, this field needs you!