Alumna Carolyne Bennett puts her skills to work at the CDC
By Skye Corken
Published on October 24, 2017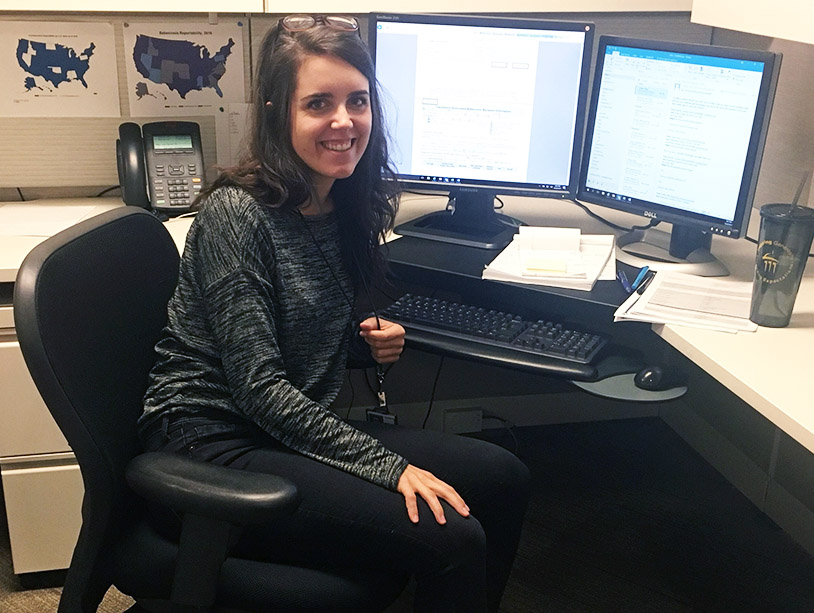 Carolyne Bennett began attending the University of Iowa in 2015 to pursue a Master in Public Health (MPH) degree in epidemiology and graduated in summer 2017. During her time at the UI, she immersed herself with experiences that helped build her skills and knowledge in infectious diseases, which helped lead to both an internship and a fellowship at the Centers for Disease Control and Prevention in Atlanta. She recently answered a few questions about her journey.
Q: What drew you to the University of Iowa to complete your studies?
CB: Honestly, my husband's best friend moved to Iowa City to work for a ministry on campus. They schemed up a plan and convinced me to apply to the MPH program at Iowa and paid for the application fee. My original plan was to head to Tulane University in New Orleans. However, once I started comparing both programs I realized that Iowa was a better fit for zoonotic infectious diseases. I found Dr. Christine Petersen online and knew I wanted to work for her!
Q: You have quite the impressive background in terms of involvement: A lab tech with Dr. Petersen's lab group, an intern for the CDC's Parasitic Diseases Branch, and you even were an on-site logistics coordinator for the 2016 Iowa One Health Conference. What motivated you to be involved in so many things?
CB: I got involved in with projects I am passionate about… plus I wanted to get my money's worth out of the program. These experiences allowed me to grow in knowledge about infectious diseases and how to impact people for the better.
Q: In addition to earning your MPH degree this past summer, you also finished an internship with the CDC in Atlanta. Can you tell me a little about what you did while you were there?
CB: As an intern at the CDC, I worked at the Parasitic Disease Branch working on the surveillance team. My main project included summarizing how state-level public health surveillance for Chagas disease currently is conducted in the United States. In addition to reviewing the information and materials related to Chagas disease surveillance on each state's website, I conducted brief interviews with each state to understand their rationale for surveillance, how the state responds to reports of Chagas disease, and how the state health department uses or intends to use the collected surveillance data. I also performed disease-specific literature reviews for the CDC One Health office for the One Health Zoonotic Disease Prioritization Workshops. These workshops guide countries to identify which five zoonotic diseases or pathogens in their country are of greatest concern for an action package within the Global Health Security Agenda.
Q: What are your long-term goals for yourself and your career?
CB: My long-term goals have recently changed in the past year. Currently, I am focusing on my efforts to become a better epidemiologist. I am hoping to gain as much wisdom and knowledge from my mentor here at the CDC, Dr. Sue Montgomery, an established veterinarian and epidemiologist. Every disease that we study here, she is fully committed to at all times. I'm hoping to learn how she conducts herself and works with different states. The CDC's relationship with other states can be very sensitive. I learned a lot of this at Iowa but it was more on an educational level whereas this is more on a career level.
Q: You are now starting a fellowship in Atlanta. What does this fellowship have in store for you and what is the duration of it?
CB: Currently, I am working on the team focused on Cyclospora outbreaks. I am inputting data from all states and looking for related cases. The team is in constant communication with the Food and Drug Administration, which carries a similar goal of finding food vehicles that are the cause of the different outbreaks. My fellowship will end next August. Eventually, I will move on to work on the rat lungworm outbreak in Hawaii.
Q: What would you consider your biggest accomplishment to be so far?
CB: Before deciding to get my MPH, I traveled the world for 11 months doing humanitarian work. I would say that trip allowed me to gain my biggest accomplishments.
Skye Corken is a junior at the University of Iowa majoring in Global Health Studies and earning a Certificate in Writing.