Alums Kristin and Philip Van De Griend give back to their Iowa community
Published on March 31, 2020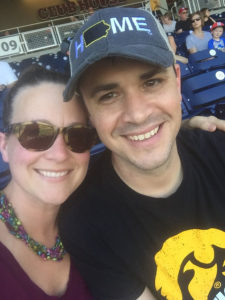 Iowa natives Kristin and Philip Van De Griend first met over bagels at a Welcome Week event during their initial week of graduate classes at the College of Public Health. Both received Master of Public Health degrees in epidemiology from the College of Public Health in 2007, they got married in 2009, and Philip received his MD from the Carver College of Medicine in 2011.
They each were led to public health after finishing undergraduate programs knowing they wanted to pursue additional education in the health field. Although she wasn't drawn to medicine, Kristin says, "I was excited about understanding and preventing health problems in communities because it prevents suffering, helps people flourish, and allows us to be stewards of our healthcare and economic resources." Philip saw public health as an interesting overlap between many different facets of health. "It has truly provided a deeper breadth of knowledge as a physician," he says.
After spending time at the University of South Carolina where Philip completed his medical residency and Kristin received a PhD in Health Promotion, Education, and Behavior in 2015, the Van De Griends decided to move back to Philip's hometown of Orange City, Iowa. Kristin, a Maxwell, Iowa, native, says, "Many friends have told us they have never met someone with as much pride for their home state as Phil has."
Philip is a physician in the Departments of Family Medicine and Musculoskeletal and Sports Medicine in the Orange City Area Health System. He also provides medical coverage in the Emergency Department one day per week. "Public health has helped me understand that many factors, like the communities where they live, contribute to my patients' health beyond just their behaviors."
His epidemiology degree is proving especially useful with the current COVID-19 pandemic. "I've been fervently trying to educate patients on viral spread and help my hospital and clinic plan on how to prevent or slow the novel coronavirus," he says.
Kristin is an assistant professor of sociology and the assistant director of the Kielstra Center for Research and Scholarship at Dordt University in Sioux Center. "My public health education from the University of Iowa was an excellent foundation that helped me connect my passion for social justice and health," she says. "I use that knowledge and skills daily in my work as a professor."
She enjoys including her students in interdisciplinary research projects. "Right now, we're studying international water insecurity and water-related illnesses, mental health among agriculture workers, hopelessness among cardiovascular and stroke patients, program evaluation of group prenatal care, Ukrainian adult mental health, sexual and reproductive health, and gender-based violence on college campuses."
Philip has also provided care outside of the hospital setting to local college and high school athletes and during athletic events. "I love interacting with my patients on a personal level, and I love trying to solve the puzzle of a new or difficult problem. Medicine is always changing, and I find it an exciting opportunity to learn," he says.
Moving back to Iowa has had more benefits than they anticipated. "There is a sense of community here that is unique to the rural Midwest," Kristin says.