Askelson tapped to lead UI cancer prevention program
Published on June 28, 2017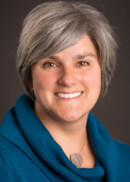 Natoshia M. Askelson, MPH, PhD, assistant professor in the Department of Community and Behavioral Health at the UI College of Public Health, has been named principal investigator of the Cancer Prevention and Control Research Network (CPCRN) collaborating center at the University of Iowa. The CPCRN is a national network of academic, public health, and community partners who work together to reduce the burden of cancer, especially among those disproportionately affected. The Iowa collaborating center, affiliated with the College of Public Health's Prevention Research Center, is funded by the Centers for Disease Control and Prevention and the National Cancer Institute. The University of Iowa joined  the CPCRN in 2014, and is one of eight institutions that participate as collaborating centers nationally.
"We are very pleased to have someone with Dr. Askelson's experience in cancer prevention and control as the PI of the CPCRN collaborating center at Iowa," says Edith Parker, DrPH, professor and head of community and behavioral health and director of the Prevention Research Center. "Her expertise in research and applied evaluation in issues related to cancer prevention and control will benefit our investigators as well as our community partnerships."
The University of Iowa collaborates with other CPCRN centers to investigate areas of research interest, including initiatives to increase Human Papillomavirus (HPV) vaccination rates and colorectal cancer screening rates. Currently, CPCRN investigator Jason Daniel-Ulloa, PhD, clinical assistant professor in the Department of Community and Behavioral Health, is working in the community of West Liberty, Iowa, to establish sustainable community-clinical partnerships aimed at increasing HPV vaccination rates in Latinos. In addition, Askelson and Parker contribute to a collaborative workgroup that is examining the use of evidence-based colorectal cancer screening interventions in  Federally Qualified Health Centers.
More information about the University of Iowa CPCRN is available at https://prc.public-health.uiowa.edu/cpcrn/. Information on the national network of CPCRN collaborating centers is available at http://cpcrn.org/ .