Borders, Barriers, and Birth Outcomes
By Jennifer New
Published on February 24, 2020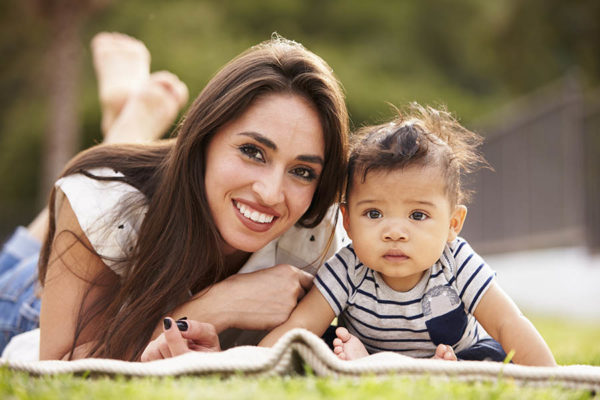 Among the factors that contribute to a positive pregnancy and delivery are access to health care, clear communication between a mother and her medical providers, and a relative lack of stress. For immigrant and refugee mothers, even those who are living in seemingly stable areas, none of these factors are certain or predictable.
Several UI College of Public Health faculty members and graduate students are trying to change this through studying and working with immigrant and refugee populations. Their research is shedding light on the needs of Iowa's changing population.
New Populations and Health Disparities
According to the American Immigration Council, in 2015, 4.8% of Iowa's population was born in another country.
These numbers reflect sizable populations who have immigrated to Iowa from Mexico, Central America, Asia, Africa, and Europe, as well as refugees fleeing conflict and violence. Iowa's labor force is comprised of 5.8% of people born outside the U.S., and the number of English language learners in Iowa public schools has increased dramat­ically in the last two decades.
What researchers are finding, however, are groups of people whose health does not reflect the level of medical care to which most Iowans have access. At University of Iowa Hospitals and Clinics (UIHC), the discrepancy was particularly evident in the obstetrics outcomes of mothers from the local Congolese population.
William Story, CPH assistant professor of community and behavioral health, routinely works in sub-Saharan Africa and South Asia to improve access to health care for mothers and children. When he learned about the issues being faced by Congolese women right in his backyard, he saw it as an opportunity to bring his expertise to his own community.
Creating the Congolese Health Partnership
At the end of 2016, Story and a small team launched a crowdsource fundraiser via the University of Iowa's first "Gold Rush" campaign. They raised more than $10,000 to launch the Congolese Health Partnership (CHP). Their first act was to create a community advisory board and learn more about the Congolese commu­nity's barriers to health care.
"We trained the board members in community-based participatory research," says Story, "including how to conduct interviews about the needs of the community."
Meeting at the Broadway Neighbor-hood Center in southeast Iowa City, they completed eight focus groups in Swahili and Lingala, the two languages most commonly spoken by the Congolese community.
CHP has since offered multiple educational sessions about child birth in the U.S., prenatal care, and health insurance. Now co-chaired by a health care provider and a member of the local Congolese community, CHP also hosts sessions in which Congolese speakers give context about health and cultural practices from the Democratic Republic of Congo.
Navigating the Health Care System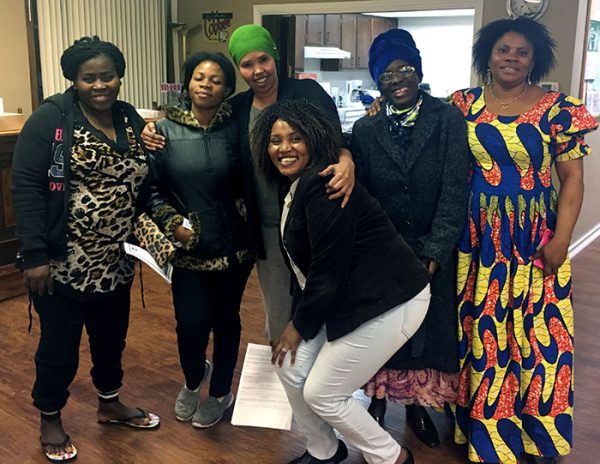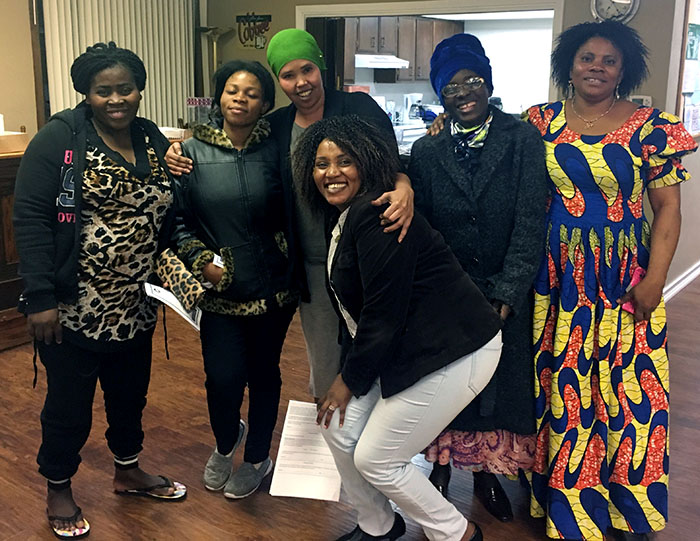 Alka Walter, a UIHC family practice physician and current CHP co-chair, is motivated by the limitations she experi­ences in the outpatient clinic setting, in which she only has 30 or 40 minutes with a patient—not enough time, she says, when translation of both language and cultural practices are necessary.
Another issue, Walter adds, can occur during labor and delivery when patient consent is needed for procedures like C-sections or assisted deliveries. The community education sessions provide information about these situations in a non-medical and relaxed setting.
The exact numbers of the Congolese population in the greater Iowa City area are unknown, but some CHP community members estimate it to be around 3,000. Walter notes that this includes people who have applied for asylum, having escaped genocide on the eastern border of their home country, and others who come via a green card lottery system and chose Iowa because of friends and relatives who are already here, as well as the area's reputation for good schools and work.
However they arrive, most of these newcomers need help navigating the complexities of the American insurance and Medicaid systems, which are major parts of CHP's work.
The Effects of Immigration Raids
Maternal health can be a strong indi­cation of the well-being of a community. Just as poor obstetric outcomes notified providers in Iowa City of issues facing
Gudino stresses it is important for health care providers to learn the complex ways in which immigrant and refugee communities care for each other and promote health.
Congolese women, so have birth outcomes provided researchers a measure of the effects of Immigration and Customs Enforcement raids on largely rural Latino communities in the U.S.
Nicole Novak, a research scientist in the College of Public Health, studies physiological markers of stress, such as the stress hormone cortisol, in U.S.-born and immigrant Latina/os. She used vital records data to study the birth outcomes of more than 25,000 women who had been pregnant during the 2008 immigration raid in Postville, Iowa, in which 389 workers were detained, the single largest raid on an American workplace at that time.
Supporting the growing evidence about the stress effects of chaotic and traumatic events, Novak and her fellow researchers found no change in pre-term births or birth weights among White moms, but saw an effect for Latinas—whether they were directly involved in the raid or not.
"At a population level, when you see those jumps in adverse birth outcomes, you know there was a lot of stress in the popu­lation," explains Novak. "For example, low birth weight and pre-term birth can increase after earth­quakes and mass violence. We know that stress is a risk factor for poor health outcomes. Early birth and low birth weights put a child at risk for multiple developmental issues, such as cognitive and emotional or behavioral development."
It is important, Novak believes, to remember the effects of immigration policy beyond the border. Currently, she and her collaborator William Lopez, clinical assistant professor in the University of Michigan's School of Public Health, are partnering with six communities where 30 or more people have been arrested in worksite immigration raids in 2018, including Mt. Pleasant, Iowa. Novak describes these events as very chaotic, with a lot of similarities to the confusion and distress experienced by those in natural disasters.
She and Lopez have found a pattern of who shows up immediately after a raid: "It's almost always faith communities, teachers—because raids occur so often when kids are in school, so teachers are almost neces­sarily involved—lawyers, and Latino/ Hispanic civic groups and advocates," says Novak. With only one exception, those who noticeably are not among the first responders are local health professionals. In thinking about these raids as a humanitarian, disaster response, Novak hopes to inform the response of health care workers.
Strengths and Challenges
The CDC has identified health dis-parities as a major challenge to the nation's well-being. One College of Public Health graduate student working with Novak, Juan Gudino, says, "The training in stress biomarkers has helped me understand the cumulative things in your life that shape you. They're not as obvious as exposure to a pathogen, but if you are activated and can't calm yourself down, it really creates wear and tear on your system."
Echoing sentiments expressed by members of the CHP, Gudino stresses it is important for health care providers to learn the complex ways in which immigrant and refugee communities care for each other and promote health. Recognizing the positives, such as strong systems of interpersonal support and faith-based traditions, is just as vital as understanding the challenges.
"I'm interested in how people share knowledge to navigate new and unknown systems," says Gudino, adding that we must recognize how this occurs against the backdrop of immigrants and refugees maintaining and being buoyed by their existing social and cultural practices.
Like Gudino, recent graduate Monisa Saravanan has an interest in global health, which she now realizes she might be able to meet much closer to home. Currently a first-year medical school student, Saravanan worked with Story during her time in the MPH program. "I now see that there are plenty of immigrants in the U.S. who need just as much help and have similar challenges to accessing health care as international populations," she says.
This story originally appeared in the fall 2019 issue of InSight magazine