Chorazy named associate dean for academic affairs
Published on October 27, 2020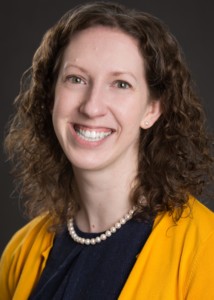 Margaret (Maggie) Chorazy has been named associate dean for academic affairs in the University of Iowa College of Public Health. Her appointment begins Nov. 1, 2020.
Chorazy is currently the director of undergraduate programs for the college and a clinical associate professor of epidemiology. Her research interests include infectious disease epidemiology and scholarship of teaching and learning in public health education.
As associate dean for academic affairs, Chorazy will be responsible for providing leadership and support in all areas related to student success. Her position will ensure implementation and sustained success of the college's diversity, equity, and inclusion (DEI) goals across the various units and departments of the college. Chorazy will help lead the college in overall academic planning and assessment, accreditation, development and support, enrollment management, instructional and learning support, curriculum development, online learning, academic advising, and student support services.
"Maggie brings an exceptionally strong skill set to this important leadership position," notes Edith Parker, dean of the College of Public Health. "Under her guidance, our college has created an innovative undergraduate curriculum built on diverse experiential learning opportunities for students, engaged teaching, and an emphasis on post-graduate placement. Her expertise and commitment to evidence-based instruction and learning and student success will guide continued development of our academic programming."
As founding director of the undergraduate public health programs, Chorazy was instrumental in the 2015 launch of the College of Public Health's first baccalaureate degrees. Since that time, the college's undergraduate programs have experienced steady growth, with fall 2020 enrollment totaling 227 students in the Bachelor of Arts and Bachelor of Science tracks.
Chorazy was a 2015 recipient of the College of Public Health's Faculty Teaching Award as well as the Epidemiology Student Association's Outstanding Faculty Award in 2013. She received the College of Public Health Outstanding Alumni Award in 2018.
"It is an honor to be chosen to serve as the college's next associate dean for academic affairs," says Chorazy. "I look forward to working with our students, staff, faculty, and alumni along with our campus and community partners to support student success across all of our academic programs.
"I am also excited to partner with the college's DEI Committee, all members of our college, and across the broader university community as we implement the college's DEI Strategic Plan."
Chorazy earned a Bachelor of Science in biology from Illinois Wesleyan University, a Master of Public Health in epidemiology of microbial diseases from Yale University, and a PhD in epidemiology from the University of Iowa. She was an adjunct professor at Quinnipiac University before enrolling at the University of Iowa. Chorazy is active in national public health organizations, including the Association of Schools and Programs of Public Health and the American Public Health Association. She is also the college's chapter president for the Delta Omega Honorary Society in Public Health.
Chorazy will succeed Thomas Vaughn, who served as interim associate dean for academic affairs since 2018. Previously, the position was held by Tanya Uden-Holman, who served from 2004 to 2018, when she was named UI associate provost for undergraduate education and dean of University College.