Christine Petersen named Edwin B. Green Chair in Public Health
Published on April 18, 2023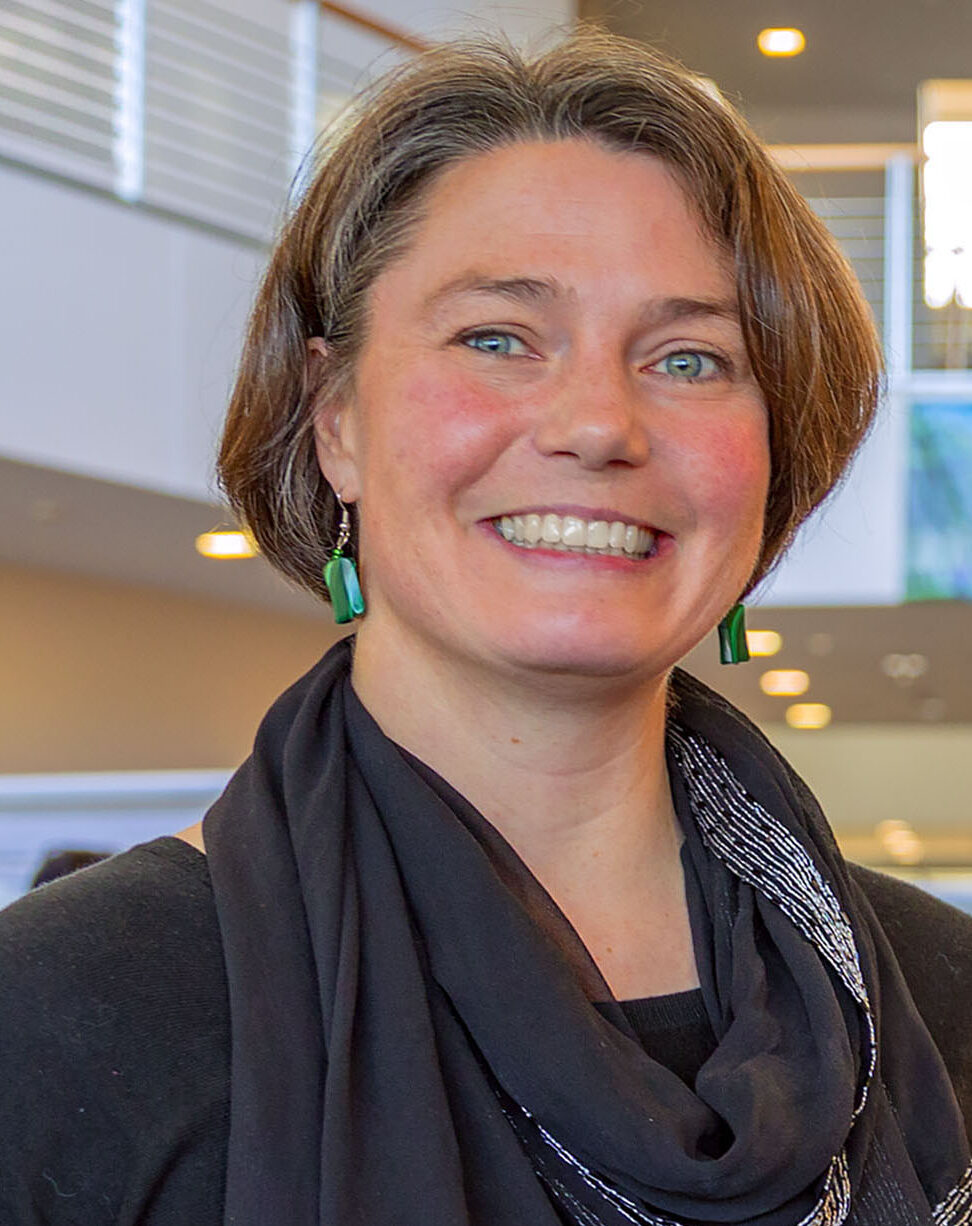 The University of Iowa College of Public Health is pleased to announce the appointment of Christine Petersen, professor of epidemiology, as the Edwin B. Green Chair in Public Health. Petersen will hold the endowed chair for a five-year term, which may be renewed.
Petersen is internationally known for her work on the recognition and prevention of zoonotic diseases—infections that spread between people and animals. Her work has focused particularly on visceral leishmaniasis, a tropical parasitic disease that kills 20,000–40,000 people every year, and tick-borne diseases, particularly Lyme disease. In addition, she collaboratively works on malaria, Brucella canis, influenza, and other diseases. She directs the Center for Emerging Infectious Diseases (CEID), which brings together trans-disciplinary research teams to lessen the burden of emerging zoonotic infectious diseases across health settings.
Petersen teaches joint medical, veterinary, and global public health coursework related to the diagnosis, treatment, and prevention of zoonotic diseases within all populations. She is also an active mentor of faculty, post-doctoral fellows, and graduate and undergraduate students.
In fall 2022, Petersen was elected to the National Academy of Medicine, considered one of the highest honors in the fields of health and medicine. This election recognizes individuals who have demonstrated outstanding professional achievement and commitment to service. She is also a Fellow of the American Society of Tropical Medicine and Hygiene (ASTMH), the nation's oldest and largest professional organization focused on global health and tropical medicine. She currently serves as ASTMH's Scientific Program chair. She is also a standing member of the National Institutes of Health's Vaccines Against Infectious Diseases grant-review study section and served as president of the American Council for Molecular, Cellular and Immunoparasitology.
"Dr. Petersen has distinguished herself and the university with her internationally recognized scholarship and highly productive research portfolio," noted Edith Parker, professor and dean of the UI College of Public Health. "We look forward to her continued high-impact contributions to future research, teaching, and scholarly innovations as well as her outstanding leadership as a prominent collaborator and mentor for faculty and students."
Petersen earned a Doctor of Veterinary Medicine degree from Cornell University, followed by a Doctor of Philosophy in immunology and infectious diseases from Harvard University. She began her academic career at Iowa State University College of Veterinary Medicine as an assistant professor with an affiliate appointment in the Center for Food Security and Public Health. She joined the University of Iowa College of Public Health as an associate professor of epidemiology in 2013 and attained the rank of full professor in 2020. She is the proud mom of her son, daughter, and step-daughter, as well as a cat and three dogs.
The Edwin B. Green Chair honors University of Iowa alumnus Edwin Green. The chair is supported by income from the permanent Edwin B. Green Endowment Fund. Although he received a BA in journalism in 1929, Green was a long-time supporter of the arts, the medical community, and his own field, journalism. His generosity also has impacted UI endowed professorships and fellowships, University Libraries, Iowa Hall in the Museum of Natural History, and scholarships to help school children attend educational and recreational programs and summer camps. After graduating from the UI, he joined The Iowa City Press-Citizen, later serving as managing editor for 32 years until his retirement in 1966. Green died in 1988.