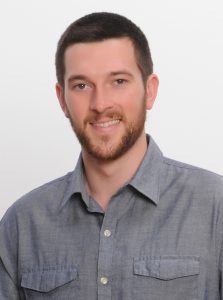 CPH alumnus Jake Kundert of Solon, Iowa , has been hired by Iowa Valley RC&D as their new Local Foods Associate.
Together with Food System Director Jason Grimm, Kundert will work at a local and regional level to advance the Iowa Valley RC&D's Regional Food System Initiative. Kundert will be leading the expansion of Iowa Kitchen Connect (a project that matches food entrepreneurs to kitchen space first launched in Iowa City) to four Iowa communities including Des Moines and Dubuque. He will also be supporting the Linn County Food Systems Council, assisting with production for the Grow: Johnson County initiative, and contributing to the Lettuce Grow Markets Toolkit for Iowa's farmers market managers.
Kundert has a Masters in Public Health from the University of Iowa and brings expertise in community engagement, marketing, research, and small-scale vegetable farming on both the Iowa landscape and abroad.
Iowa Valley Resource Conservation & Development is a 501(c)(3) nonprofit serving a six-county region in East Central Iowa (Benton, Iowa, Johnson, Linn, Poweshiek, Tama Counties and the Meskwaki Nation). The RC&D helps strengthen the area food system, assists local communities to grow their economies, fosters protection and enhancement