A research team led by faculty in the University of Iowa College of Public Health recently received a new grant to study patterns of information sharing among health care professionals in electronic health records (EHR) systems.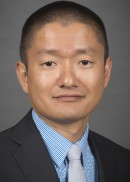 The project, led by Xi Zhu, associate professor of health management and policy, will examine EHR-based communication in virtual care teams and the relationship between EHR communication networks and quality of care. The research is funded by the Agency for Healthcare Research and Quality.
"Electronic health records systems have been widely adopted throughout the U.S. health care system, and they are changing the way health care professionals deliver care and communicate with each other," says Zhu. "Today's health care professionals often work as virtual care teams – a variety of practitioners providing care to the same patients, but working at different times and locations – all connected through the EHR. Yet, it's not clear how the EHR is impacting communication and teamwork among them and how those factors might affect the quality of care that patients receive."
This new project will seek to develop methods for measuring the communication that takes place within EHR networks, and then examine associations between EHR communication and patient outcomes, such as hospital re-admissions, emergency department visits, and mortality.
Recently published results of a related pilot study demonstrate the feasibility of tapping EHR data to measure and examine communication networks in virtual care teams, says Zhu. Furthermore, the pilot project indicates that variations in electronic communication networks are associated with clinical differences in a sample of cancer patients.
"We are very excited about the potential of this research to generate new evidence to support health IT interventions for team-based care delivery," Zhu says.
Other members of the research team for these projects include Daniel Sewell, UI assistant professor of biostatistics, as well as investigators at Virginia Commonwealth University and University of California–Davis.
Additional Media Coverage
AHRQ Awards Grant to U of Iowa to Research Health Data Exchange
https://ehrintelligence.com/news/ahrq-awards-grant-to-u-of-iowa-to-research-health-data-exchange