CPH researchers to study alcohol recovery outside of treatment
Published on October 3, 2019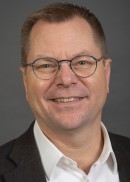 University of Iowa researchers have been awarded a $2.27 million grant from the National Institute on Alcohol Abuse and Alcoholism to study adults with alcohol use disorder (AUD) who achieve remission without obtaining professional treatment.
Paul Gilbert, assistant professor of community and behavioral health at the University of Iowa College of Public Health, is the principal investigator on the study. Anne Helene Skinstad, clinical professor of community and behavioral health, and Grant Brown, assistant professor of biostatistics, both at the University of Iowa College of Public Health are co-investigators.
According to the project summary, less than one-quarter of adults with AUD ever obtain treatment but the majority will achieve remission at some point. Untreated recovery has been long recognized but is poorly understood.
This newly funded study will investigate how people define recovery when they don't seek treatment, the behavior change strategies leading to resolution of a drinking problem without treatment, and how untreated recovery may vary by gender and race/ethnicity.
The long-term goal of the research is to expand the repertoire of responses to problem drinking. According to the researchers, findings may be used to develop and test novel low-threshold interventions to promote recovery among people who are unable or unwilling to seek specialty treatment services.