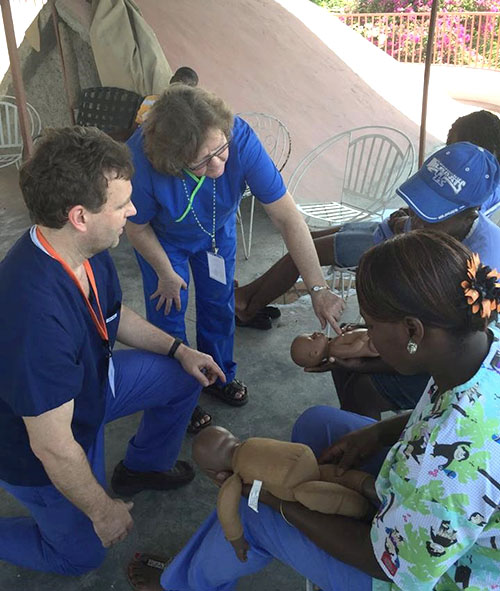 Jeff Dawson, professor of biostatistics and associate dean for faculty affairs, traveled to Haiti Feb. 6-15 as a volunteer with Healing Hands for Haiti, a secular, non-profit, non-governmental organization dedicated to delivering quality, sustainable physical medicine and rehabilitation education, training, and care for adults and children with physical disabilities in Haiti.
Jeff describes his visit, his fifth trip with Healing Hands since 2009, below:
I was in Haiti as part of a 12-person medical team doing public health service and teaching in Port-au-Prince, Haiti, and the surrounding areas. My activities including teaching, interpreting, and clinical service.
Despite some complications due to a two-day transportation strike, we still had a very successful trip. When the strike kept us from leaving the Healing Hands for Haiti property where we were staying, I led an introductory class in Creole for our medical team, which seemed to help them speak more Creole than any other team that I had accompanied in previous years. I also prepared Creole prescription templates, so that we could dispense medications more efficiently in our outreach clinics later in the week.
When we were able to leave the property, we traveled to orphanages to provide medical clinical services for orphans, staff, and community members.  We also taught a Caregiver School to staff members at the Notre Maison orphanage, which houses, feeds, and educates dozens of special needs children.  The curriculum of this Caregiver School includes information about rehabilitation therapy, lifting techniques, first aid, hygiene, and nutrition.
On one day, I split away from the team and taught an all-day short course in biostatistics to medical students, residents, and faculty at the University of Notre Dame d'Haiti.  Although I am generally comfortable when speaking Creole, it is challenging to speak it all day long, especially when using French math terms that are somewhat new to me.  At any rate, the visit to Notre Dame d'Haiti was very successful, and will likely lead to further collaborations in teaching and research.
During my trip, I also obtained information about two U.S. universities that offer language classes in Creole.  Since a number of UI students and faculty have an interest in doing outreach work in Haiti, I would like to investigate the possibility of offering an introductory class in Creole here.