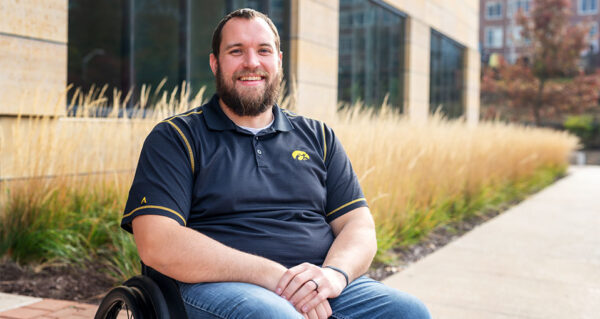 Eric Kontowicz wrote his doctoral dissertation thanks help from all over the University of Iowa campus.
The dissertation from the doctoral candidate in epidemiology in the College of Public Health looks at how climate change will affect influenza rates in animals and people, and in particular the impact that flooding has on flu infections in human populations.
"Floods are not good for our health in many ways, and I wanted to know if that makes us more susceptible to the flu," says Kontowicz, a Michigan native with a bachelor's degree from Michigan State University. "Especially in Iowa, with floods becoming more frequent, how does that influence flu infections?"
So Kontowicz set to work gathering data and finding experts from across campus to help him interpret all of it. He worked with his adviser, Professor of Epidemiology Christine Petersen, and faculty in the college's Department of Occupational and Environmental Health. With university help, he gathered flu test results from the State Hygienic Lab, stream gauge data from the United States Geological Survey, census data from the U.S. Department of the Census, and weather station data from the National Oceanic and Atmospheric Administration. He worked with experts in the Iowa Flood Center in IIHR—Hydroscience and Engineering and the Department of Geographical and Sustainable Sciences to learn more about flooding impacts and atmospheric data. Statisticians in the College of Public Health's Department of Biostatistics helped him build a model to make sense of it all.
"Collaboration is a wonderful thing," Kontowicz says.
His study found that populations exposed to flooded environments are at risk of experiencing a 1% rise in influenza diagnoses for each day they are flooded. He says that's likely because the flooding increases production of molds and allergens that can compromise the lungs' immune system.
"This is important to know because we can target resources to those areas where there was flooding to protect those populations who might be compromised," he says. "For instance, we can urge populations who have been in flooded areas to get their flu shots in the fall."
See the full feature in which this story appeared