Fethke, Petersen receive Carver Trust Associate Professor Advancement Awards
Published on December 19, 2018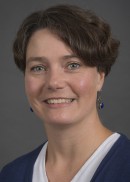 University of Iowa College of Public Health faculty members Nathan Fethke and Christine Petersen have been selected to receive Carver Trust Associate Professor Advancement Awards. The $5,000 awards are intended to support the advancement of associate professors to full professors.
The awards can be used for a variety of scholarly activities such as advancing innovative research ideas, disseminating research findings, traveling to advance research partnerships, or engaging with new collaborators.
Fethke, associate professor of occupational and environmental health, will use the award to develop and test a prototype of a new, wearable sensor that measures the postures and movements of workers along with location information. The goal is to provide ergonomists with a greater understanding of how a variety of occupational tasks with varying physical demands affect musculoskeletal health. This project will serve as the foundation for further studies.
Petersen, associate professor of epidemiology and director of the Center for Emerging Infectious Diseases, will use the award to establish a critical novel field site with Amhara Public Health Institute, the major accredited public health laboratory in Ethiopia. The initial research question for this collaborative site will be to understand how tick borne diseases often found in people living and working in austere settings may augment an epidemic of visceral leishmaniasis in Northeastern Ethiopia.
The awards are funded by the Roy J. Carver Charitable Trust, one of the largest private philanthropic foundations in the state of Iowa. The Carver Trust supports biomedical and scientific research, scholarships, and programs addressing the educational and recreational needs of youth.