CPH researchers are helping to unpack what works in a program that introduces kids to new foods.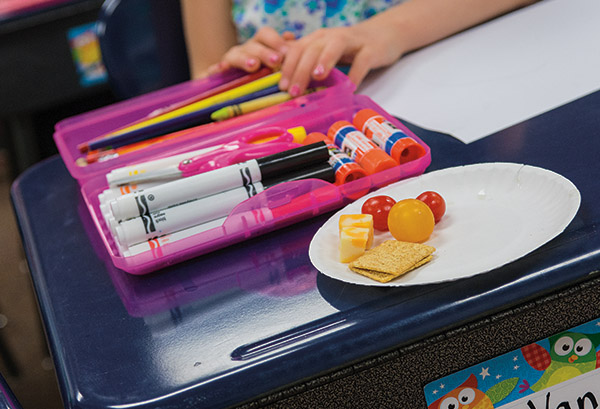 Most parents have been pestered for sugary cereal or fat-laden chips during a visit to the grocery store. But what about kids asking for red bell peppers? Or mango?
For many parents, such a request would be nothing short of miraculous. But an Iowa-grown nutrition education program that is now in its second decade has spurred many kids to ask for healthier foods.
Pick a better snack™ was developed by the Iowa Nutrition Network in the Iowa Department of Public Health. With a proven track record, it is becoming a model for other states. Since all states receive funds from the Supplemental Nutrition Assistance Program (SNAP) to provide nutrition education for low-income children, it makes sense to replicate the most effective programs.
When the USDA did a large scale evaluation of the Iowa Pick a better snack™ (PABS) program in 2013, the results were clear: The program works.
"What was less clear," says Doris Montgomery, state coordinator for the Iowa Nutrition Network, "was why it worked."
Montgomery enlisted the help of Natoshia Askelson, CPH assistant professor of community and behavioral health. Along with a team of graduate students and recent alumni, Askelson is working to unpack which aspects of the PABS program are effective. And that's not as easy as it might sound.
The program has a lot of moving parts. Understanding which ones are vital to producing positive results will help Montgomery and her peers across the nation to know where to put their funds.
Nutrition Rock Stars
Nutrition educators who visit schools once a month are the hallmark of the program. In addition to in-class time, kids take home bingo cards that encourage them to try different foods and physical activity throughout the month. Children who complete a bingo receive prizes like hacky sacks and Frisbees. Parents receive a newsletter with cooking and shopping tips. The program also has signage in local grocery stores and advertising on billboards.
It's that class time that the kids remember. Montgomery calls the nutrition educators "rock stars" and says that kids will try things for them that they won't for their parents or regular teachers.
One of those stars is Judith Dittmar, who leads the program in the seven Council Bluffs elementary schools that are eligible. The curriculum is focused on younger grades, so each month Dittmar visits kindergarten through third-grade classrooms, bringing with her a healthy snack that features a different fruit or vegetable. Recent offerings have included jicama, cranberries, and cauliflower.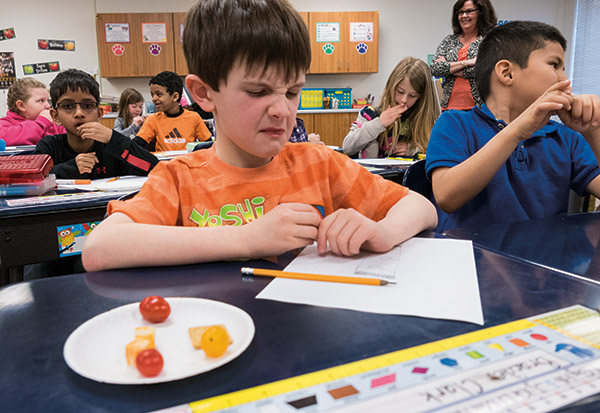 Kids are encouraged to touch the food, smell it, and then – hopefully – taste it. The idea is that the more curiosity kids can bring to the experience, the more likely they are to take the final step and eat something new.
"We use positive peer pressure," says Dittmar, noting that sometimes kids will be cheering for each other to try a food that's either unfamiliar to them or believed to be "bad." During her ten years in the position, she has watched a lot of kids overcome preconceived notions about different foods. Blueberries may not be such a hard sell, but spinach and asparagus are tougher.
There are eleven participating sites in the state. These are places where more than 60 percent of a school is eligible for free and reduced lunch. In each location, a school district or county extension office receives funding from the Iowa Nutrition Network School Grant Program to provide nutrition education to schools. Montgomery notes that many schools around the state that are not eligible find alternative funding to cover the program's expenses and maintain participation because they find the program so valuable.
Pester Power
Iowa has an increasing poverty rate and low national ranking in consumption of fruits and vegetables, meaning kids often lack access to fresh food at home.  Which is where Askelson's research comes into play. The success of PABS lies, she says, in "pester power" – that age-old talent kids have for getting what they want. In this case, it's being used to ask for healthier food options.
"We want to be sure they are learning how to be better askers," Askelson says. After the kids learn about a new food, it's important that they have the skills to help make that food appear on the family dinner table.
Last summer, two College of Public Health graduate students called parents of children who had participated in the program. One of the interviewers, Julia Friberg, a second year Master of Public Health student from Rockford, Ill., explains, "The questions focused on how children ask for food, grocery shopping habits, and strategizing for food budgets."
Friberg, whose own interests include community-based participatory research and health disparities, said the experience helped her to hone skills while also gaining a better idea of the current landscape of nutrition and food access issues.
Montgomery says that having an independent evaluator provides more credence to the results. She also appreciates that Askelson has added her own experience in health promotion and community-based initiatives to the table.
The results of Askelson's research from last summer were used to revise the classroom lessons. Following this summer's research, another round of revisions will be made with the aim of making PABS as effective as possible.
Maine has already adopted PABS, and Montgomery believes other states will follow suit. With child hunger an ever-growing problem – more than twice as many K-12 students are eligible for free and reduced lunch nationwide as compared to 1980 – finding programs that really help to connect children and families with healthy food is essential. PABS is just one small piece to a larger problem, but it provides kids with knowledge and a hunger for better foods.
This story originally appeared in the spring 2015 issue InSight magazine for alumni and friends of the UI College of Public Health.
Photos by Tom Langdon