Hana Hinkle named a 2022 Presidential Leadership Scholar
Published on January 25, 2022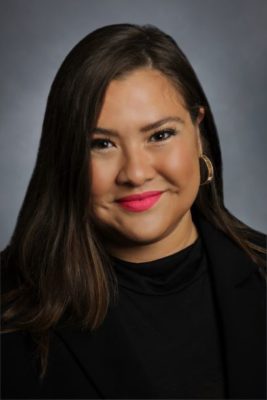 Alumna Hana Hinkle (09MPH in community and behavioral health) has been selected as a member of the 2022 class of Presidential Leadership Scholars. Hinkle is the interim director and department head of the University of Illinois College of Medicine Rockford's National Center for Rural Health Professions.
The Presidential Leadership Scholars (PLS) program named 60 Scholars who will form the program's seventh annual class. PLS serves as a catalyst for a diverse network of leaders brought together to collaborate and create meaningful change in the United States and around the world as they learn about leadership through the lens of the presidential experiences of George W. Bush, William J. Clinton, George H.W. Bush, and Lyndon B. Johnson.
The seventh class was selected after a rigorous application and review process. Scholars were chosen based on their leadership growth potential and the strength of their personal leadership projects aimed at improving the civic or social good by addressing a critical challenge or need in a community, profession, or organization.
Over the course of several months, Scholars will learn from former presidents, key former administration officials, and leading academics. They will study and put into practice varying approaches to leadership and develop a network of peers who can help them make an impact in their communities. The program kicks off virtually Jan. 18.
The latest class joins an active network of more than 350 Scholars who are applying lessons learned from the program to make a difference in the communities they serve. Examples of these Scholar-led efforts include addressing the opportunity gaps that exist around early childhood education, healthy communities, and entrepreneurship within the Hispanic community; providing employment opportunities and mentorship to veterans; and deploying much needed resources globally in the wake of COVID-19.
Since the program began in 2015, Scholars have consistently reported remarkable growth in skills, responsibilities, and opportunities for impact. For example, 96% of Scholars reported significant growth in their sense of purpose and role since beginning PLS.