Janssen to lead collaboratory focusing on overdose prevention in Iowa
Published on August 2, 2018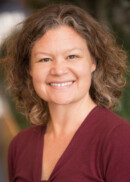 Brandi Janssen, CPH clinical assistant professor of occupational and environmental health, has been selected by the Iowa Institute of Public Health Research and Policy (IIPHRP) to establish a new collaboratory that will gather data to help prevent drug overdoses in Iowa.
A collaboratory is a creative group process designed to solve complex problems and brings together collaborators from different backgrounds and disciplines to expand the scope, scale, and impact of critical public health research. Janssen's team will collaborate on a project titled "Iowa Substance Use Data Set: Preventing Overdoes Through Actionable Data." The project is intended to be a first step toward developing the Iowa Substance Use Data Set, a multi-stream, multi-sourced, comprehensive data warehouse for partners, and will include information directly from substance users.
"This data base will be different from existing substance use information sources in that its focus is on timeliness, local relevance, and integration of multiple data sets," Janssen explains. "The team hopes to design a data warehouse infrastructure to manage storing, updating, and sharing pertinent data. In addition, we will identify the data needs of providers and stakeholders regarding substance misuse and abuse and will design the data structure and applications to accommodate those needs."
In addition to Janssen, the collaborators include:
Stephan Arndt, PhD, Professor, Carver College of Medicine, Psychiatry; College of Public Health, Biostatistics; Director, Iowa Consortium for Substance Abuse Research and Evaluation
Ryan Carnahan, PharmD, CPH, Associate Professor, Epidemiology
Heath Davis, MS ITIL, Lead Application Developer, Bio-Medical Informatics, Institute for Clinical and Translational Science, Carver College of Medicine
Juan Pablo Hourcade, PhD, Associate Professor, CLAS, Computer Science
Boyd Knosp, MS, Associate Dean for Information Technology, Carver College of Medicine. Associate Director for Biomedical Informatics Operations, Institute for Clinical and Translational Science
Anna Merrill, PhD, DABCC, Clinical Assistant Professor, Department of Pathology, Carver College of Medicine; Clinical Chemist, Pathology & Laboratory Medicine, Iowa City VA Health Care System, Pathology & Laboratory Medicine
Jennifer Sánchez, PhD, CRC, Assistant Professor, CLAS, College of Education, Rehabilitation and Counselor Education
Read more about the IIPHRP collaboratories and their work.