Kristin Wilson named director of Master of Health Administration Program
Published on April 20, 2022
The University of Iowa Department of Health Management and Policy is pleased to welcome Dr. Kristin Wilson as the director of its Master of Health Administration (MHA) Program effective July 1, 2022. Wilson will be appointed as an associate professor in the clinical track.
Wilson earned a PhD in public health sciences with a concentration in health management and policy in 2008 from St. Louis University College for Public Health and Social Justice. She earned an MHA degree from the same institution in 1993.
Wilson joined the St. Louis University (SLU) faculty as an assistant professor in 2005 and was promoted to associate professor in 2015. She directed the SLU Health Management and Policy Master of Public Health degree program from 2013 to 2017, and directed the MHA degree program from 2016 to 2018. During her time as MHA director, she led the program through the accreditation process with the Commission on Accreditation of Healthcare Management Education and maintained the program's No. 7 national ranking.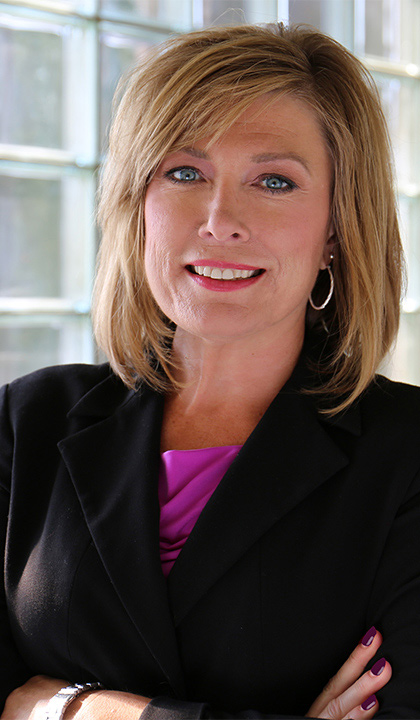 Wilson brings a wide variety of academic and practical leadership experience in health administration, including her current role as the executive director of the Heartland Center for Population Health and Community System Development at St. Louis University. Within this center, she is the U.S. faculty lead of an international health and social care integration collaborative.
In addition, since 2018 she has been the principal investigator of the Missouri subcontract to the Midwestern Public Health Training Center for Workforce Development, a multi-state collaborative funded by the Health Resources and Services Administration (HRSA). Previously, Wilson worked in nonprofit association management with the American Lung Association of Eastern Missouri and the St. Louis Regional Asthma Consortium.
"We're delighted to welcome Kristin to this critical leadership role during a time when the health care field is undergoing dramatic change," says Keith Mueller, Gerhard Hartman professor and head of health management and policy. "Her diverse experiences contribute to the strong vision she has for our MHA program, and deepens her understanding of how to prepare future leaders who will be well-equipped to integrate social services and clinical care."
Wilson's scholarly work has focused on creating competency-based health systems, interactions between health systems and public health agencies in completing community needs assessments, and plans to address community health needs. Her current work focuses on health and social care integration from a systems design perspective, including ongoing international work with partners in the United Kingdom and Belgium.
Wilson will succeed Dan Shane, associate professor of health management and policy, who has served as MHA program director for two years. Shane will continue as a member of the faculty.
"Dan's outstanding leadership as program director is greatly appreciated by students, faculty, staff, and alumni of our department," says Mueller. "He has done a superb job guiding and strengthening our MHA program, which ranks among the top ten health care management programs in the nation."