NIH NeuroNEXT renewal includes expanded role for UI clinical research
By Mary Kenyon
Published on July 25, 2018
The University of Iowa is expanding its role in a network of neurological research centers funded by the National Institutes of Health. The NIH announced a renewal of funding for Network for Excellence in Neuroscience Clinical Trials, or NeuroNEXT, a research program that helps streamline phase II clinical trials for brain, nerve, and muscle disorders.
At the same time, eight new clinical trial sites will join the network, including the UI program, led by Laurie Gutmann, MD, clinical professor of neurology, and Katherine Mathews, MD, professor of pediatrics and neurology.
The UI College of Public Health's Clinical Trials and Statistical Data Management Center, led by Chris Coffey, PhD, professor of biostatistics, already serves as the data coordinating center for the initiative.
NeuroNEXT is supported by the National Institute of Neurological Disorders and Stroke (NINDS), part of the NIH. It was started in 2012 to make neuroscience clinical trials more efficient and to help increase the number of treatments that get into clinical practice.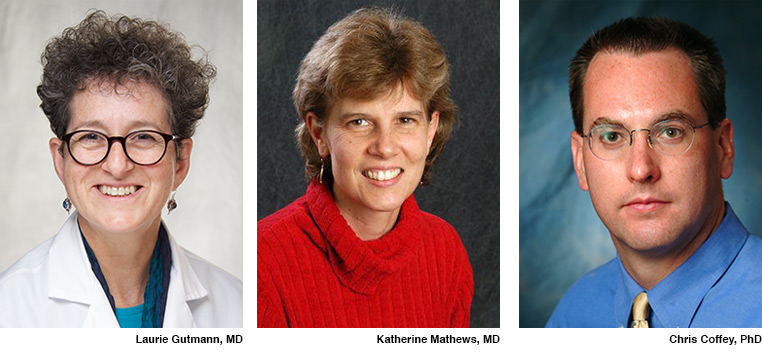 New collaborations
The program is designed to encourage collaborations among academic centers, disease foundations, and industry. If a researcher is considering a phase II clinical study, but does not have the experience to conduct it, he or she can apply to the NeuroNEXT program to leverage the resources that are available at the participating centers.
For example, NeuroNEXT centers can provide equipment, standardize data acquisition and analysis, or help with patient recruitment. In addition, since each study takes place simultaneously in several different clinical centers, it takes less time to enroll the targeted number of patients than would be the case with a single center study.
Phase II clinical trials usually involve larger groups of patients who receive a treatment that's been determined as safe during phase I of a trial. Phase II trials measure the effectiveness of the treatment.
Number of NeuroNEXT trials grows
"To date, nine clinical trials currently in various stages have been implemented in the NeuroNEXT network, showing that this innovative approach to research can help expedite clinical research and help get treatments to patients faster," says Codrin Lungu, MD, NINDS program director. "We are thrilled to continue working with the sites that have been participating in the network, and we look forward to collaborating with the eight sites that will be joining the program."
Gutmann says the selection of the UI as a clinical trial site recognizes the university's commitment to the full cycle of research from basic science to translational and clinical studies.
An honor for Iowa
"It's an honor to be chosen," Gutmann says. "We will be part of innovative studies for rare diseases moving toward treatments and cures. Our selection also opens opportunities for patients in Iowa and the Midwest to participate in potentially life-saving research protocols."
Dixie Ecklund, director of operations at the Clinical Trials Statistical and Data Management Center, is excited for the next phase of NeuroNEXT.
"Over the past seven years we have forged strong partnerships with our collaborators across the country to recruit and enroll over 500 patients with various neurological disorders. The fruits of our labor are now coming to bear as important scientific results have been disseminated to the patient populations and published in peer-reviewed medical journals. Adding University of Iowa to the network is truly icing on the cake and will definitely bring more options to our patient populations."
Gutmann and Coffey will continue to serve as co-leaders of the NIH/NINDS-funded Clinical Trials Methods in Neurology course along with two investigators from the University of Michigan and UCLA. This course is designed to help junior investigators develop scientifically rigorous, yet practical clinical trial protocols and to focus on early consideration of funding mechanisms as a key trial planning activity. The course offers intensive training to 30-35 researchers annually and includes both online and in-person sessions, which alternate between Iowa City and Ann Arbor, Mich.
Coordinating researcher training
Coffey says the collaborative efforts have led to standardized processes that have made the conduct of clinical neuroscience studies more efficient, systematic, and effective.
"The Network has come together as a cohesive group of amazing investigators and research staff who share a common vision to identify new therapeutics for people living with neurological diseases," Coffey says.
"We have had the pleasure of training and mentoring many young investigators and research staff, thereby increasing the number of investigators and research staff who are qualified to lead such studies. In the new grant period, we will continue to improve on the efficiencies already developed, innovate on new approaches to grow the pipeline of therapies, and greatly expand the training and mentoring of new clinical investigators."
This story originally appeared on the UI Carver College of Medicine website