Oct. 27 UI Lecture Committee event to feature Dr. Vin Gupta and health communication
Published on October 21, 2021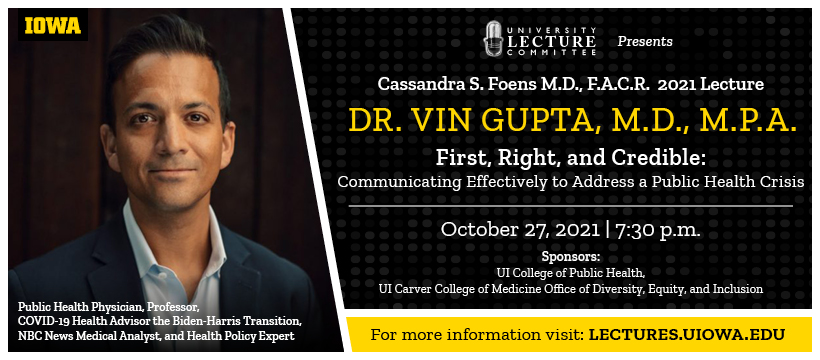 The University of Iowa Lecture Committee will host Dr. Vin Gupta for a virtual presentation on Wednesday, Oct. 27. The presentation, entitled First, Right, and Credible: Communicating Effectively to Address a Public Health Crisis, will take place at 7:30 p.m. The event will be livestreamed at https://lectures.uiowa.edu/live/.
College of Public Health Dean Edith Parker will introduce Dr. Gupta. A Q&A session with audience members will follow a moderated conversation led by College of Public Health students Alexis Clark and Lexi Fahrion. The event is co-sponsored by the College of Public Health and the Carver College of Medicine Office of Diversity, Equity, and Inclusion.
Dr. Gupta is a critical care pulmonologist, senior principal scientist and chief medical officer of COVID-19 response at Amazon, and affiliate faculty at the Institute for Health Metrics and Evaluation at the University of Washington. In his role at Amazon, Dr. Gupta provides medical and scientific leadership over all aspects of the company's pandemic and health crisis response, including the scaling of on-site testing and vaccination efforts at all sites worldwide and direct workforce health education to more than 1.4 million global employees.
His background in public health has focused on epidemic preparedness, including roles at the Centers for Disease Control and Prevention, the World Bank's Pandemic Emergency Financing Facility, the China CDC, and the Pentagon's Center for Global Health Engagement. Dr. Gupta served as health advisor on the Biden-Harris Transition's COVID-19 Response team. He is a Major in the U.S. Air Force Medical Corps Reserves; a senior medical advisor to organizations including T-Mobile, the Seattle Seahawks, and the Seattle Mariners; and a medical analyst for NBC News.
Individuals with disabilities are encouraged to attend all University of Iowa-sponsored events. If you are a person with a disability who requires a reasonable accommodation in order to participate in this program, please contact the Lecture Committee in advance at lecture-committee@uiowa.edu or by calling 319-335-3059.