Peek-Asa selected for Big Ten Academic Leadership Program
Published on June 29, 2017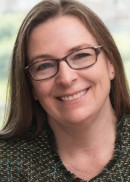 Corinne Peek-Asa, University of Iowa professor of occupational and environmental health and associate dean for research in the College of Public Health, has been named a Fellow in the 2017–18 Big Ten Academic Alliance Academic Leadership Program.
Established in 1989, the Academic Leadership Program (ALP) is one of the longest-serving professional development programs offered by the Big Ten Academic Alliance. This intensive experience develops the leadership and managerial skills of faculty who have demonstrated exceptional ability and academic promise. The program is specifically oriented to address the challenges of academic administration at major research universities and to help faculty members prepare to meet them.
The primary goal of the program is to help a select group of talented and diverse faculty further develop their ability to be effective academic leaders at all levels of research universities. Since its inception over 1,400 participants have completed the program.
The ALP Fellows attend three campus-based seminars, each three days in length, and participate in related activities on their home campuses between seminars. The seminars are rotated among Big Ten member institutions. Host campuses for the 2017-18 program are the University of Iowa, the University of Michigan, and the University of Nebraska-Lincoln.