Peek-Asa, Thorne honored at Celebrating Excellence awards
Published on May 3, 2017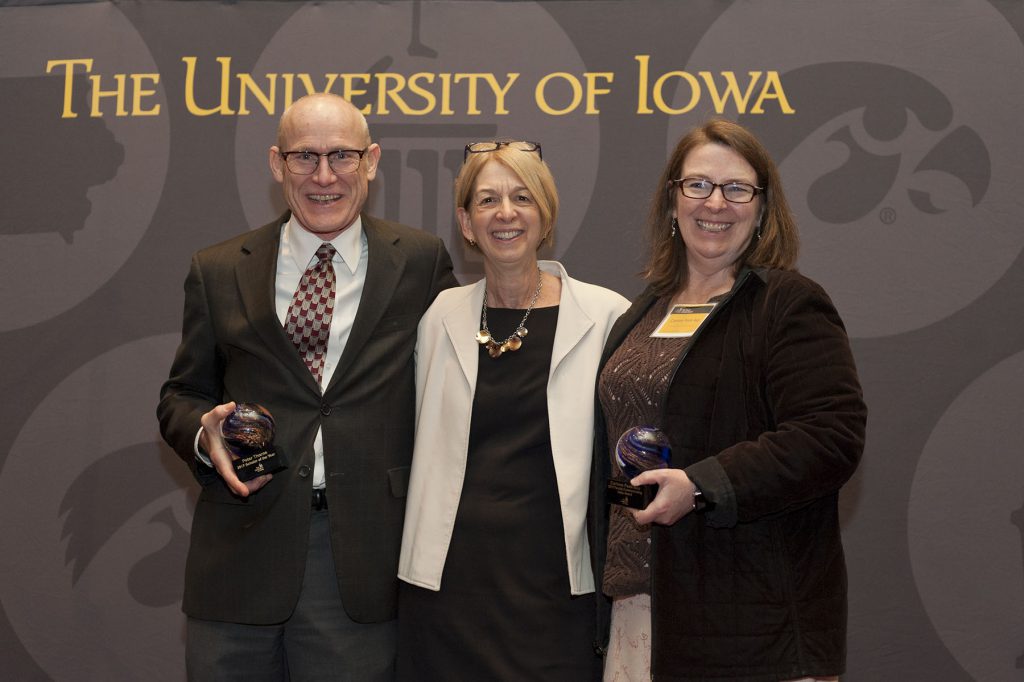 Recognizing a year of innovation, scholarship and service, the University of Iowa Celebrating Excellence: Discovery and Innovation Awards Ceremony was held April 24.
The annual event honors faculty, staff, post-doctoral fellows, undergraduates and graduate students, and mentors who have demonstrated outstanding accomplishments in their fields. It also recognizes faculty, staff and student innovators who launch their research findings out into startups, options and/or licenses.
The winners received a commemorative gift and cash award.
College of Public Health recipients were:
Scholar of the Year Award: Recognizes outstanding research, scholarly and/or creative activities by tenured and/or research/clinical track faculty members
Peter S. Thorne, Ph.D., Professor and Head, Occupational & Environmental Health, Environmental Health Sciences Research Center, College of Public Health
Faculty Communicating Ideas Award: Recognizes excellence in communication about research and scholarship in the sciences and humanities and the study of creative, visual and performing arts to a general audience directly or via print and electronic media.
Corinne Peek-Asa, Ph.D., Professor/Associate Dean for Research, Department of Occupational and Environmental Health, College of Public Health
See a full list of award recipients.