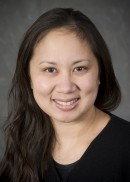 Marizen Ramirez, associate professor of occupational and environmental health, has been approved for a funding award of $1.7 million by the Patient-Centered Outcomes Research Institute (PCORI) to study how parents can help their children recover emotionally and socially from traumatic injuries.
While children can recover physically, they often have problems dealing with the emotional and social impacts of their injuries. The study will compare two parent-based approaches to help injured children recover.
"One is a program we have developed called Listen Protect Connect for Injured Kids, which guides parents on how best to speak with their child after an injury, how to identify signs of distress, and how to obtain more care for their child if needed," says Ramirez. "The second approach is an educational booklet given to families as they leave a hospital after a child's injury."
Three months and six months after a child's hospitalization, the researchers will collect information from the parents and children about school attendance and performance, children's emotional health and quality of life, and overall family relationships, especially regarding support and communication.