Q&A with alumna Brooke Zibell
Published on September 21, 2022
Brooke Zibell earned a BS in public health from the University of Iowa in 2021. She then went on to complete an MHS degree in environmental health. Find out how her career path blends her interests in health and the environment.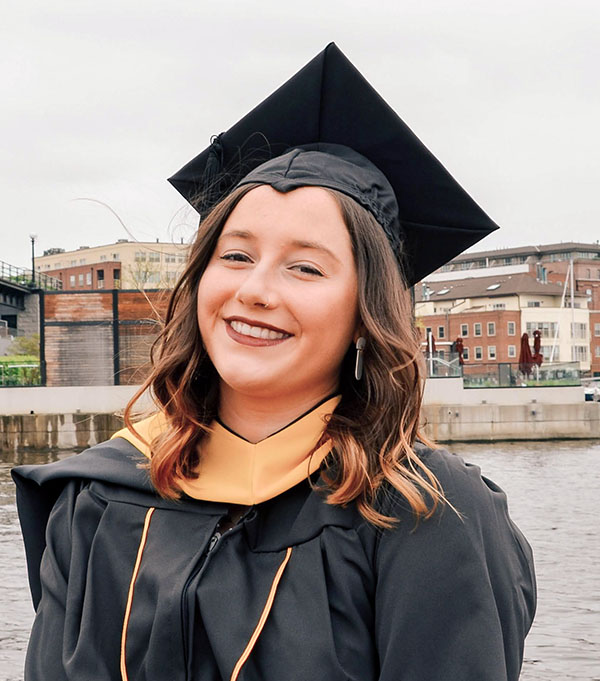 What is your home town and state?
I'm from Reedsburg, Wisconsin.
What was your degree? Any minor or certificates?
At the University of Iowa, I completed a BS in public health with minors in Spanish and environmental policy & planning in 2021. I then earned an MHS in environmental health from Johns Hopkins University in 2022.
What is your current job title, employer, and city/state?
I work as a pollution control analyst with the Baltimore County Government, Department of Public Works and Transportation, Bureau of Solid Waste Management, in White Marsh, Maryland.
What made you choose a career in public health, or how did you find yourself on this career path?
Coming into college, I was really stuck between a career in health care and a career in the environmental sciences. After doing some research, I found public health to be the perfect field at the intersection of both my passions for health and the environment!
How do you apply your public health education in your job?
Whether I'm taking or interpreting environmental samples or ensuring workplace safety, I apply my public health education through my job on a daily basis!
What does an average day look like in your job?
The best part about my job is that there's not really an "average day" on the job! There is always something different to be done; from taking groundwater samples, measuring landfill gas concentrations, ensuring compliance and safety, conducting stormwater inspections, writing reports, monitoring leachate patterns, working with consultants and other governmental jurisdictions, etc., there is never a boring day on the job. With so many responsibilities, I am always out and about during my typical day and it keeps me on my toes!
What excites you about your job?
What excites me most about my job is knowing that I'm making a difference in the public's health and the surrounding environments. Without anybody monitoring factors such as groundwater quality, landfill gas migrations, leachate patterns, etc., there would likely be a much greater environmental health hazard from solid waste facilities than there is today. I like to think I'm doing a job where I'm actively preventing an environmental and/or health hazard from occurring and therefore actively protecting the public's health. What I've learned during my time in the field of public health is that if nobody understands what you do or what your job entails, then you're doing your job right!
What was your favorite public health class and why?
My favorite public health class was Building a Healthier Tomorrow taught by Professor O'Shaughnessy! I think it was the first class where my passions for the field of environmental health were really solidified. In that class I was taught the historical environmental health practices that were developed and how we are continuing to advance them. It was also where I really started to grasp the different pieces of legislation that govern air and water quality and how to interpret them. I truly believe that I wouldn't have taken this exact career route if it wasn't for this class inspiring me to tackle modern-day environmental health issues.