Researchers reveal racial disparities in pedestrian injuries
By Katy Stites
Published on December 10, 2020
A new research study from the University of Iowa College of Public Health reveals that pedestrian injuries are worse for most minorities in the US compared to whites, a racial disparity that points to inequities in access to safe transportation.
"Basically in every indicator we looked at, we saw worse outcomes, particularly among Black, Hispanic, and multi-racial groups," says Cara Hamann, clinical assistant professor of epidemiology, who was the principal investigator on the study.
Hamann and Iowa colleagues Corinne Peek-Asa, professor of occupational and environmental health, and Brandon Butcher, doctoral graduate in biostatistics, analyzed data on mortality rates and hospitalization rates from 2009 to 2016 to determine the frequency, severity, and cost of pedestrian-related injury hospitalizations by race and ethnicity. Multiracial, Black, and Hispanic groups had worse outcomes in most areas compared with whites by a significant margin. Only one group, Asian/Pacific Islanders, had better outcomes than whites in some areas.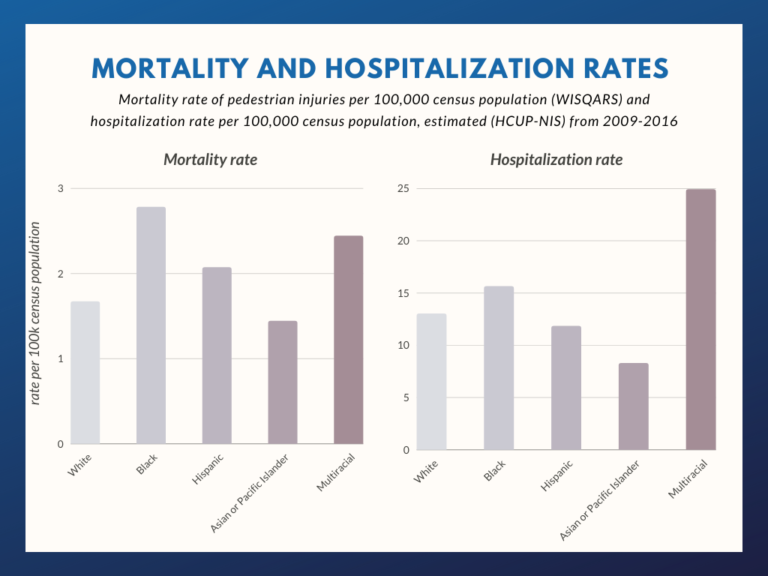 "Hospital admission rates were almost two times higher for people who were multiracial or other ethnic groups, including Native Americans, compared to whites," Peek-Asa says. "The hospitalization rates are about 20% higher among Blacks compared to whites. And, we also found that lengths of stay longer than one week were a lot higher for every race and ethnic group than white."
While racial disparities are documented in many areas of public health, this is the first study that lays out evidence of the burden of pedestrian injury hospitalizations by race. One cause is systemic — people of different races are likely to experience differences in their built environment and access to safe transportation. Dangerous environmental risk factors include high-speed roads, poor visibility, business density, wide roads, high traffic volume, and the absence of pedestrian facilities like crosswalks, signals, and refuge islands.
"A lot of times the blame is placed on the pedestrian rather than the environment that led to collision or injury happening. Maybe there wasn't a crosswalk within a half-mile, and that's why someone crossed the road where there wasn't a crosswalk. It shouldn't be a blame to the victim, we should be looking at systemic issues," Hamann says.
The researchers note that prevention would best be placed at the population-level and on systems-based factors, including economic, built environment, and transportation policy changes.
"A lot of these things relate back to systemic issues, policy issues, how we're allocating funds to transportation and built environment," Hamann says.
Besides the built environment, there are many other factors that can contribute to these disparities. Hamann says cultural and regional differences or driver behavior can play a role, too.
Pedestrian injuries are an area of growing concern in recent years. Pedestrian fatalities account for 17% of all traffic deaths and have increased more than 50% in the past decade. Safe and reliable access to transportation also affects access to healthy food, jobs, and other resources, making it a recognized social determinant of health.
Despite having significant health and well-being outcomes, including mortality, inequities in transportation access and safety have largely been overlooked, according to the researchers.
"We're providing evidence to show that this really is a problem, and that's the first step in addressing a public health issue. We have to identify it, and then we can move on to trying to intervene and prevent and identify avenues to do that," Hamann says.
View the study manuscript here.