Study finds Medicaid program's requirements communicated ineffectively
Published on May 27, 2020
A new study from researchers at the University of Iowa suggests that requirements to participate in Iowa's Healthy Behaviors Program have been ineffectively communicated to Medicaid enrollees, leading to low participation numbers. The study was recently published online in Health Affairs.
The Healthy Behaviors Program (HBP) was implemented in 2014 as a part of Iowa's Medicaid expansion. The program incentivizes Medicaid enrollees to receive a wellness exam and complete a health risk assessment annually to waive a monthly premium.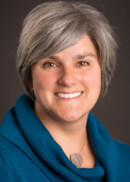 The researchers conducted a telephone survey with Medicaid enrollees to examine their awareness and understanding of the HBP and merged the survey data with claims data to examine factors associated with the completion of program requirements.
The survey results show that nearly four years after implementation, awareness of the HBP remains low with approximately half of respondents unaware of the program or the premium requirement, suggesting that this information is not being effectively communicated to enrollees.
"When so few people are aware of the program and are completing the required behaviors, the problem is not with the folks on the receiving end of the messages, but those who are sending it," says Natoshia Askelson, assistant professor of community and behavioral health at the University of Iowa College of Public Health and lead author of the study. "Programs that serve vulnerable, hardly reached populations have to go the extra mile to communicate with their members."
Askelson says that when designing and implementing programs such as HBP, policy makers should note that they are unlikely to succeed without consideration of how the program is structured and promoted. Limited program awareness is likely to result in low participation and consequences related to paying premiums or being disenrolled.
Co-authors of the study include Patrick Brady, Youn Soo Jung, Elizabeth T. Momany, Brooke McInroy, and Peter Damiano from the University of Iowa and Brad Wright from the University of North Carolina at Chapel Hill (formerly of the University of Iowa).