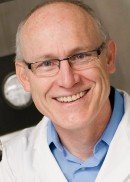 Peter Thorne, CPH professor and head of occupational and environmental health, has been awarded a 2018 Regents Award for Faculty Excellence.
Given by the Board of Regents, State of Iowa, the award honors faculty members for work representing a significant contribution to excellence in public education. The University of Iowa will select up to six faculty members each year to receive this award and will award each recipient a $1,000 one-time stipend.
The recipients are announced in the spring and the award is presented in the fall semester.
Congratulations, Peter!