UI to study HPV vaccine disparities in rural areas
Published on December 7, 2017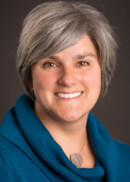 University of Iowa investigators are beginning a yearlong study to better understand why HPV (human papillomavirus) vaccine coverage in rural areas of the state lags behind other adolescent immunizations.
The study, funded by the National Cancer Institute through the Holden Comprehensive Cancer Center, will be led by a team from Holden. Natoshia Askelson, assistant professor of community and behavioral health in the UI College of Public Health, is the project director. Other partners include the Iowa Primary Care Association, Iowa Department of Public Health, American Cancer Society, Iowa Cancer Consortium, and local public health agencies.
The HPV vaccine protects against a number of diseases and HPV-related cancers such as cervical cancer and oral cancer, but vaccination rates across Iowa are below the national average. According to the most recent data available, only 21 percent of 13- to 15-year-olds in Iowa had completed the HPV vaccination series in 2015. Federal health officials have a goal of 80 percent vaccination completion for adolescents by 2020.
The UI researchers will look at rural counties to explore the various factors that may influence uptake of the HPV vaccine in rural areas.
"This vaccine is nearly 100 percent effective at preventing cancer, so we want to make sure that all adolescents in Iowa have the opportunity to benefit from this vaccine when they are getting their other adolescent vaccines," says Askelson. "Our work will identify how we can better support rural communities and clinics so that all children will have access to this vaccine."
For additional information about this study, contact Natoshia Askelson (natoshia-askelson@uiowa.edu). Further information about the HPV vaccine is available online at https://idph.iowa.gov/immtb/immunization/hpv.