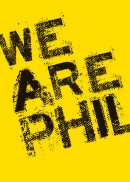 The UI We Are Phil Faculty and Staff Giving Campaign week kicks off on Monday, Oct. 16.  In recognition of the positive impact philanthropy has on our college and our campus, the CPH We Are Phil Committee has planned a Fun-PHIL-ed Day at CPH for Tuesday, Oct. 17.  Activities will include:
Windy Phil welcoming all to CPHB
Box Lunch food truck (a 50s-style diner on wheels) outside CPHB from 11:30 a.m. to 1 p.m.  The menu features burgers, hot dogs, grilled cheese, and milkshakes.
Delicious We Are Phil cookies available for all
The CPH We Are Phil committee at table to answer questions
Faculty and staff are invited to gather in the CPHB atrium anytime from 11:30 a.m. to 1 p.m. to have lunch and socialize.
Cookies will be delivered to these central locations.  Faculty and staff are encouraged to stop by the location nearest them for a We Are Phil treat:
CPHB – 11:30 in the atrium
UCC – 11:30 in Biostats and Cancer Registry
IREH – 12 noon in Room 123
To donate any amount to the We Are Phil campaign, faculty and staff can enter a contribution envelope in one of three standing, locked deposit boxes.  From Oct. 16 through 20, they will be located at: CPHB (in the waiting area of the Dean's suite), UCC (rotating between Cancer Registry and Biostats), and IREH.  Donations can also be given online.
Thanks to the engagement of so many CPH faculty and staff who support philanthropy at UI, the college is able to offer opportunities and advance education of our students, faculty, and staff.