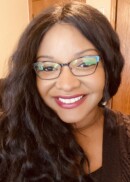 Title(s): Assistant Professor
Department: Community and Behavioral Health
Office: N424 CPHB
Phone: (319) 335-5188
Dr. Johnson's research engages communities in order to investigate disparities in biopsychosocial outcomes for populations living with or at risk of developing chronic illness and disability. The goal of this strand of research is to implement community-based interventions that address both risk and protective factors aimed at improving psychosocial outcomes.  Her current work involves partnering with Southern University and A&M College, a historically Black college/university (HBCU), and community-based organizations, to implement a culturally-responsive HIV and substance use prevention program, Project PEER (Prevent, Engage, Empower, Respond) in Baton Rouge, LA.  This work is funded by the Substance Abuse and Mental Health Services Administration.  Another aspect of Dr. Johnson's work involves assessing the unique needs of aging African American women living with HIV-Multimorbidity in order to develop and implement culturally-responsive interventions that improve their overall health and quality of life outcomes. Dr. Johnson's more recent work is based on emerging needs from the COVID-19 pandemic, primarily, addressing K-12 school mental outcomes, for both students and school-based personnel. She works closely with an interdisciplinary team at The University of Iowa, including faculty and staff at College of Education, the Obermann Center for Advanced Studies, and community-based partners (e.g., Baker Teacher Leader Center; Iowa City Community School District) to engage in needs assessment to subsequently inform interventions (e.g., streamlined linkages to care) to improve school mental health outcomes.
Research Interests
African American health
HIV
Substance abuse
School mental health
Intervention development and adaptation
Implementation science
Affiliations