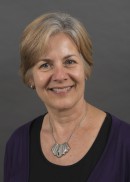 Title(s): Clinical Associate Professor, Emeritus
Department: Community and Behavioral Health
Mary Aquilino earned a BS in nursing from Binghamton University, a MS in nursing with a family nurse practitioner certificate from the University of North Carolina at Chapel Hill, and a PhD in education from the University of Iowa. She completed a postdoctoral research fellowship at the UI College of Nursing in 1997. Dr. Aquilino served as clinical associate professor in the Department of Community and Behavioral Health until 2015. For more than 30 years, she worked in the areas of women's health and maternal/child health providing family planning services to college students, teaching maternal/child health to undergraduate and graduate nursing and public health students, and supervising student clinical rotations in prenatal care, labor and delivery, and postpartum/newborn care. Her scholarly work includes research and publication in the areas of sexuality, sexual development, unintended pregnancy and tobacco use. Dr. Aquilino directed the College of Public Health MPH program from 2004-2015 during which time she also served as Associate Dean for MPH and Undergraduate Programs.
Courses Taught
Maternal, Child and Family Health
Research Interests
Unintended pregnancy
Smoking cessation
Background