Brandi Janssen: Spreading the farm safety and health message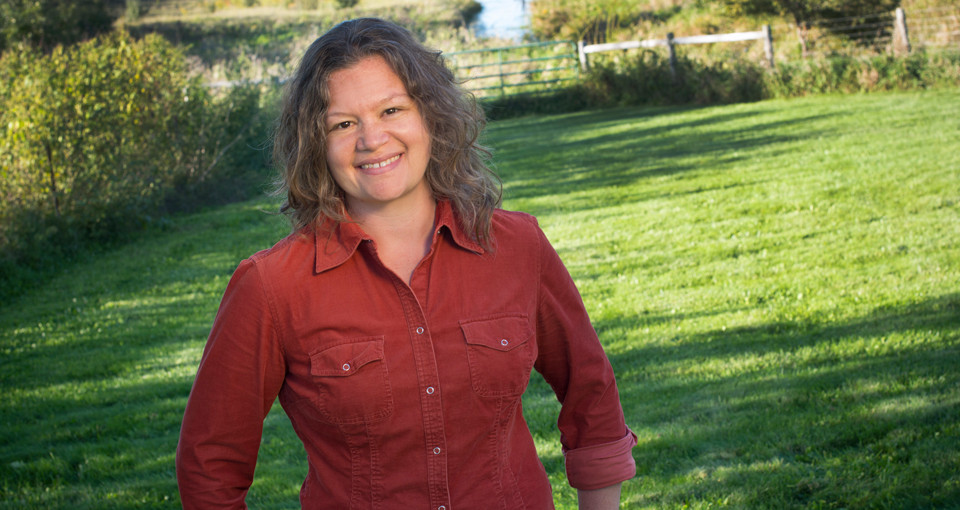 Trained as an anthropologist, Dr. Janssen applies a holistic perspective to farming, agricultural safety and health, and sustainable agriculture. "I think of myself as a big-picture researcher," she said. "As an anthropologist, you try to understand the whole package."
As director of Iowa's Center for Agricultural Safety and Health (I-CASH), she oversees a statewide coalition of public and private organizations is devoted to reducing injuries and fatalities on Iowa farms. I-CASH, a collaborative effort between the UI, Iowa State University, the Iowa Department of Public Health and Iowa Department of Agriculture and Land Stewardship, resulted from state legislation in 1990, and continues to be one of only a few mandated, state-funded centers for agricultural safety and health in the country.
I-CASH's mission is to establish and coordinate prevention and education programs, and Janssen points out that a collaborative model is critical. She notes that the I-CASH Advisory Board is a driving force behind the center, with members who bring "a lot of energy and passion" to its initiatives. The board includes a diverse group of experts in youth safety, agriculture, migrant farm workers, academic research, rural health, health care and outreach.
In addition to her educational background in anthropology, Janssen's family experience in farming contributes to her perspective as a researcher and center director.
She grew up on a beef cattle farm in the Missouri Ozarks during the farm crisis of the 1980s. She left Missouri for Iowa, earning a bachelor's degree in anthropology from Grinnell College, and a master's and Ph.D. in anthropology from the University of Iowa.
Her research interests were sparked when she started taking her young children to local apple orchards and pumpkin patches. Unfamiliar with "agritourism" at the time, she was surprised that farmers would allow people such free access to their properties. It got her thinking about how small farms stay successful in an agricultural economy in which farms continue to consolidate and get bigger.
These questions led her to examine local food production, the fastest growing segment of the food industry. Generally associated with small-scale farms, local food has created new markets for farmers. Janssen conducts qualitative, ethnographic research related to production practices in alternative agriculture, and examines the complex social processes necessary to build robust local food networks. That includes the labor associated with rural food production and processing; the challenges producers face when supplying institutional markets for local food; and the complex relationships between small-scale producers and their larger-scaled conventional neighbors.
She serves as Clinical Assistant Professor in the UI College of Public Health's Department of Occupational and Environmental Health, and has taught courses in Agriculture and Rural Health, Food Justice, Environmental Studies, and Anthropology.