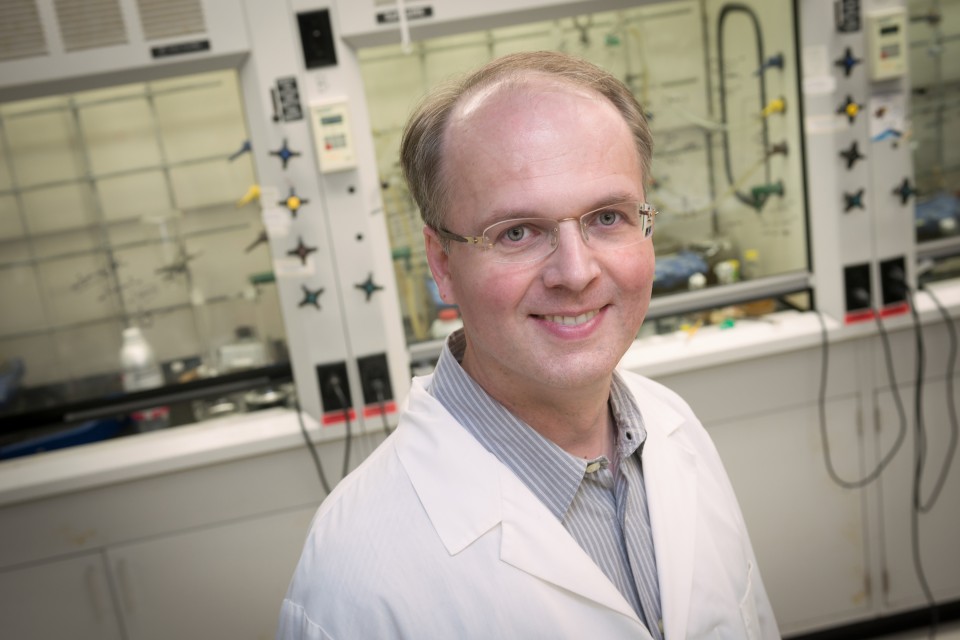 A chance encounter in a cafeteria led Dr. Hans-Joachim Lehmler to divert from his career path. Lehmler was working for the University of Kentucky College of Pharmacy on drug delivery systems when, during lunch one day, he met Dr. Larry Robertson, director of Kentucky's Superfund Research Center.
Although Lehmler was not involved in environmental contaminant research at the time, Robertson sent an email afterward, saying his chemist was leaving. "He brought me into the world of PCBs," Lehmler said of polychlorinated biphenyls, the man-made organic chemicals that have been demonstrated to cause a variety of adverse health effects, including cancer.
Robertson is now program director of the Iowa Superfund Research Center, where Lehmler, now Associate Professor in the UI College of Health Department of Occupational and Environmental Health, leads the Iowa Superfund Research Program  Synthesis Core. Lehmler's research currently focuses on understanding how factors affecting the biotransformation on environmental contaminants, such as PCBs, affect adverse outcomes in humans.
Recruited to the UI as part of a Water Sustainability Initiative cluster hire of 10 faculty members in a variety of departments, Lehmler is Deputy Director of the Environmental Health Sciences Research Center and member of the Interdisciplinary Program in Human Toxicology and IIHR Hydroscience & Engineering Center.
His own career path serves as a prime example for the basis of his teaching philosophy.
"I want students to be able to think independently," Lehmler said. "My mentoring philosophy is guided by advice from my early career mentors that a good mentor leads by example, encourages students to excel academically, and stimulates their critical thinking skills." Students that he mentors are able to think in the abstract, he said, and be open to career opportunities that might be outside of their initial expectations.
"It's more than just learning what's in your discipline," Lehmler said. "It's what can make you competitive down the road. With a broader skill set, you're much more marketable."
"Our department and the university as a whole has a very collaborative environment," he added.
Options for that type of transdisciplinary research were not as readily available in his home country of Germany, Lehmler said. He earned both his master's and Ph.D. in organic chemistry from the University of Bonn, Germany, and came to the University of Kentucky as a postdoctoral scholar.
At the UI, Lehmler teaches courses in Global Environmental Health and Health, Work and the Environment and serves as course director of the Toxicology Research Seminar taken by all graduate students in toxicology. Undergraduate students, too, have performed basic research in his laboratory over the last decade.
One of Lehmler's goals is to involve his students and postdoctoral fellows in all key stages of a research project, starting with developing a hypothesis, writing a research grant, designing and performing experiments, critically analyzing data, and presenting the data at scientific meetings and in peer-reviewed publications. Several of his postdoctoral fellows have successfully competed for pilot grant projects from the Environmental Health Sciences Research Center and the Center for Health Effects of Environmental Contamination and his students and postdoctoral fellows have moved on to become accomplished researchers in faculty positions around the world.
In addition to traditional lectures, Lehmler uses technology to make his teaching more interactive. For example, he uses "Clicker" in the Health, Work and the Environment course. Using the audience response system allows Lehmler to immediately evaluate students' understanding of a subject and, if necessary, quickly make adjustments to his teaching.
That same type of flexibility is something Lehmler tries to instill in his students.
"Sometimes you just need someone in a cafeteria who moves you in a different direction and very often that works out pretty well," he said, reflecting back on meeting Robertson. "One never knows where life will take us."
– profile by Cindy Hadish