AHA Board names alumna Tina Freese Decker as chair-elect designate
Published on July 25, 2023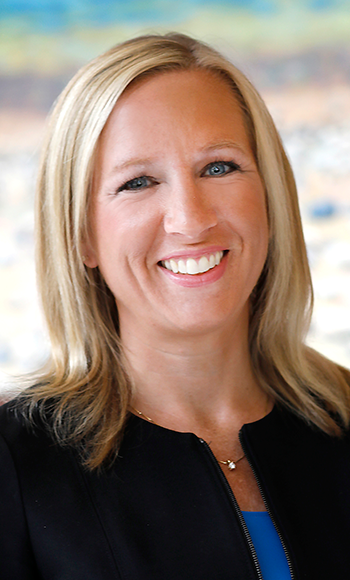 The American Hospital Association (AHA) Board of Trustees has elected University of Iowa College of Public Health alumna Christina (Tina) M. Freese Decker (02MHA), president and chief executive officer of Corewell Health based in Michigan, as its chair-elect designate.
Freese Decker will be chair-elect in 2024 and become the 2025 chair of the AHA, the top-elected official of the national organization that represents America's hospitals and health systems and works to advance health in America.
A next-generation health care thought leader and strong advocate for health care transformation and innovation, Freese Decker has been president and CEO of Corewell Health since its inception in 2022 following the integration of Spectrum Health and Beaumont Health. She was previously the president & CEO for Spectrum Health since 2018.
At Corewell Health, she is responsible for the strategy and operations of the not-for-profit integrated health system, which serves urban, suburban and rural markets with 22 hospitals, 300+ outpatient locations and several post-acute facilities. She leads the system's dedicated team of more than 60,000, which includes 11,500 physicians and advance practice providers, and15,000 nurses. She also oversees Corewell Health's provider-sponsored health plan, Priority Health, which serves 1.3 million members across Michigan and is the third largest provider-sponsored health plan in the country.
"We have many challenges and many opportunities ahead of us," said Tina Freese Decker. "The greatest opportunity is to showcase our innovation, grit and compassion to evolve and transform health care. I look forward to serving the AHA and its members in our pursuit of better health."
Prior to becoming president and CEO of Corewell Health, Freese Decker spent 19 years in various leadership roles at Spectrum Health. As president and CEO of Spectrum Health, she led a large-scale strategic and cultural transformation process, ushering in a new mission, vision and values, as well as spreading a culture of innovation, inclusion and value. She has been instrumental in prioritizing improvements to make it easier for physicians and clinicians to provide care; for individuals to receive care; and for improving engagement, quality and health equity. A longtime advocate for telehealth, Freese Decker led Spectrum Health's adoption of telemedicine to serve their wide geography, preparing the organization to meet the significant need for telehealth during the pandemic. She is also a supporter for transparency and making it easier for people to understand and access health care.
Known for her drive to take on challenges, her passion to make health better and her commitment to building a health system that celebrates and reinforces diversity, equity and inclusion, Freese Decker has been recognized by Modern Healthcare as one of the Most Influential Leaders (2022) and Top 25 Women Leaders (2019, 2022 and 2023); the Economic Club of Grand Rapids 2023 Businessperson of the Year; Crain's Detroit 2022 Newsmaker of the Year and Most Influential Women in Michigan (2016, 2021); Grand Rapids Business Journal's 50 Most Influential Women in West Michigan in 2020; and Managed Healthcare Executive's 10 Emerging Healthcare Industry Leaders 2018.
Freese Decker is a member of the AHA Board of Trustees. She has been a past member of AHA's Health System Leadership Council, Center for Health Innovation Advisory Council and Regional Policy Board.
She also serves on the boards of two of the leading economic development and business-fostering organizations for the state of Michigan – The Right Place and Business Leaders for Michigan, along with years of service and leadership on the Michigan Health & Hospital Association board.
She holds a Bachelor of Science in Finance from Iowa State University, and a Master of Health Administration and a Master of Industrial Engineering from the University of Iowa.
Adapted from a press release courtesy of the American Hospital Association