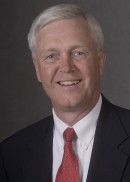 Christopher Atchison, professor emeritus of health management and policy and former director of the State Hygienic Laboratory, was recently appointed to serve a three-year term on the Board of Directors of the Public Health Accreditation Board (PHAB).
PHAB is a non-profit organization that administers a national accreditation program designed to advance the quality and performance of governmental public health agencies. It is jointly funded by the Centers for Disease Control and Prevention and the Robert Wood Johnson Foundation.
In addition to his role in the College of Public Health, Atchison held secondary appointments in the College of Nursing and the Public Policy Center. He also served on the Iowa Prevention of Disabilities Policy Council, co-chaired the Partnership for Better Health, and was on the Board of the Child and Family Policy Center and on the Steering Committee for the National Academy of State Health Policy. Atchision was also Secretary-Treasurer of the Board of Directors for the Association of Public Health Laboratories. He served as Director of the Iowa Department of Public Health (1991-1999) and was the inaugural chair of the Iowa Child Health Insurance Program (S-CHIP). He was vice-chair of Healthy Iowans 2010, the Long Term Care Coordinating Council and was a member of the Governor's Health Care Reform Task Force and the Iowa Empowerment Board.